Itineraries for Different Interests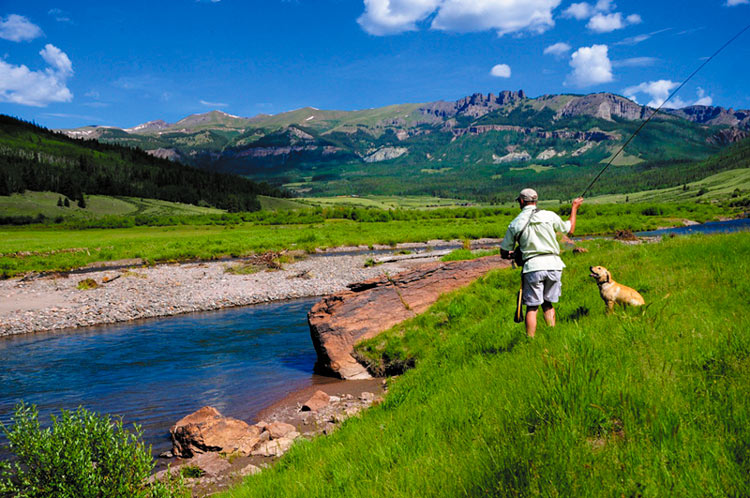 ---
Itineraries for Different Interests
Do you have hours, days, weeks, or months to spend in Lake City? The following itineraries are broken into general timeframes, giving you a chance to mix and match. If you're passing through with only a half day or a day to spend, be prepared. A small taste of everything this area has to offer is all that's needed to tempt you back for more.
Outdoor Recreation
A Few Hours to Half a Day
Bike or walk Lake City's in-town trails. For locations and distances, pick up a trails pamphlet at the Visitor Center.
Use the kid-friendly equipment, courts, and sports fields available at the town's parks and recreation facilities or sign up for Lake City Recreation's year-round activities.
Take the short ride around Lake San Cristobal, perhaps stopping for a picnic or fishing but always for photographs and memorable views you will always treasure.
Drive along Henson Creek (CR20) to Nellie Creek Road and take a short hike to Nellie Creek's much-photographed two-tier Waterfall.
Drive further up CR 20 toward Engineer Pass and snap a shot of Whitmore Falls as it sends Henson Creek waters thundering downstream.
Four-wheel up Cinnamon Pass Road (CR30) to beautiful American Basin (normally in bloom July into August) and capture fields of wildflowers like no other. When blooms in the basin are peaking, you might want to extend that half day stay and take a quick hike to Sloan Lake for the full effect of San Juan magic.
Want a short hike with a beautiful four-part waterfall destination? Try Cataract Gulch Trail. It's only 2 miles to the waterfall. The trailhead is located just past Sherman on CR 30.
Play a round (or two) of mini-golf.
Take a free fly-fishing lesson, go horseback riding, or take a nature or geology tour. All are offered by local businesses.
Try your luck at nearby fishing spots Lake San Cristobal, Deer Lakes, Henson Creek, the Lake Fork of the Gunnison River, and many more.
One Day, Two Days, and more…
Four-wheel the Alpine Loop. Plan on a minimum of eight hours and add time for stops in Silverton, Ouray, or for short hikes and photographs along the way.
Climb a Fourteener. Handies Peak is very doable with Uncompahgre, Wetterhorn, Redcloud, and Sunshine for those who are more experienced.
Hike any one of the trails off CR 20, CR 30, CR 50 or Hwy 149. Some in-town favorites include hikes to Thompson Lake, Larson Lakes, and Crystal Lake.
The Continental Divide crosses Hinsdale County twice and can be accessed via trails and some four-wheel drive roads in northern, central, and south Hinsdale County. Views from the spine of the continent are spectacular. Some favorite access points include Williams Creek Trail, Camp Trail, Cataract Gulch, Cuba Gulch, Poison Park Trail, and Rough Creek Trail.
Spend a day fishing either on your own or with a guide. Favorite day trips include fishing at Thompson Lake and Larson Lakes, in the Deer Lakes area, along the Cebolla River ,and at Continental and Rio Grande Reservoirs. When Lake San Cristobal freezes over, ice fishing makes for great day-long fun.
Tired of the overpriced, upscale, and commercial? Come to Lake City after the snow falls and ski or snowboard at the Lake City Ski Hill. Make a day of it and try in-town ice climbing off Henson Creek.
Attention snowmobile, snowshoe and cross-country ski enthusiasts. Over 100 miles of groomed trails between Lake City and Creede offer day trips for all levels and abilities.
Into cold-weather sports? Before spring, Lake City plays host to the annual Ice Climbing Festival, Matt Milski Ski Race, and Ice Fishing Derby usually scheduled on weekends in February.
Walkers or runners can take part in our various races, including the Lake San Cristobal 5k/10k Race or the San Juan Solstice 50 Mile Race in June and the Turkey Trot on Thanksgiving Day.
Four-wheel up Nellie Creek Road off CR 20 to the Uncompahgre Peak Trailhead and set up your tent for a night under the stars. Climb Uncompahgre the next day, and take another day or two to explore other areas of the Uncompahgre/Big Blue Wilderness.
With Lake City as your base camp, take a few days to camp out and explore all Hinsdale County has to offer. To check out the county's south end, drive the Silver Thread Scenic Byway through South Fork to Pagosa Springs via Hwy160. Take Piedra Road (FSR 631) north from Pagosa Springs and camp along Williams Creek or at the Williams Creek Reservoir before exploring the Upper Piedra area and the Weminuche Wilderness.
Three yurts located on the higher reaches of Hinsdale County can be booked by skiers, snowshoers, and mountaineers through the Hinsdale Haute Route. Touted as the highest hut system in Colorado, these yurts are great backcountry base camps for those seeking "out there" adventures.
Art & History
A Few Hours to Half a Day
Take a guided Historic Homes Walking Tour, Cemetery Tour, or Friday evening Ghost Tour in Lake City. All are provided by the Hinsdale County Historical Society.
Visit the Hinsdale County Museum and see displays featuring Hinsdale County pioneer, mining, and ranching history and the history of Lake City.
Check out Lake City Arts' exhibits and presentations at the historic Hough Building.
Walk the streets of the Lake City Historic District and learn about the historic homes, buildings, and events described on standing plaques throughout town.
Take an art class offered by Lake City Arts.
Attend free or minimal fee presentations during our August History Month Celebration, including In the Past Alferd Packer, blacksmithing, the Lake City Narrow Gauge Train, Red Light District Ladies, glass plate photography, and parlor singing at the Hinsdale County Museum.
Drive up CR 20 and tour a historic mine.
Take a tour of Hinsdale County's only mine tour at The Hard Tack Mine located just a few miles up CR 20.
One Day, Two Days, and more…
Drive the Cinnamon Pass (CR30) side of Lake City's Alpine Loop for a day of mining history sites. Along the route, a side-trip up Wager Gulch will take you to the well-preserved mining camp of Carson. Further up CR30, an overlook provides a view of the once thriving mining town of Sherman. Nearing Cinnamon Pass, a few restored buildings from more than six mining towns that dotted the Burrows Park area remain at area trailheads.
Drive the Engineer Pass (CR20) side of Lake City's Alpine Loop. History buffs will be treated to a number of whispers from the past, including remains of the Ute Ulay Mine and Mill and Capitol City "ghost town" remnants, and the Rose Lime Kiln built in 1881.
Food, Shopping & Entertainment
A Few Hours to Half a Day
Catch a movie at Lake City's down-home but high-tech Mountaineer Theatre.
Live music and other family-friendly entertainment can be had at local bars, restaurants, and coffee shops. There's also BINGO hosted by the Lake City Chamber of Commerce.
Attend local performances, such as plays, music, and dance, scheduled by Lake City Arts.
Enjoy a variety of tasty offerings and locally-made items. From BBQ to French cuisine and San Juan inspired paintings to locally-honed woodcraft, online shopping can't hold a candle to what's available in Lake City.
One Day
Participate in the Annual Lake City Fourth of July Celebration.
If you like local and regional arts and crafts, visit in July for the Lake City Arts "Arts & Crafts Festival" or in September for the "Colorfest Arts & Crafts Festival."
Have you everr seen more than 1000 ducks float the river? You can if you attend the Ducky Derby in July.
If wine and music are your perfect storm, you'll want to be in Lake City for the annual "Uncorked Wine & Music Festival," the third Saturday in September.
Want to welcome the beginning of hunting season? the Hunter's Ball offers great food, camaraderie, and an extra "luck of the draw" to a few area sportsmen.