Snowmobiling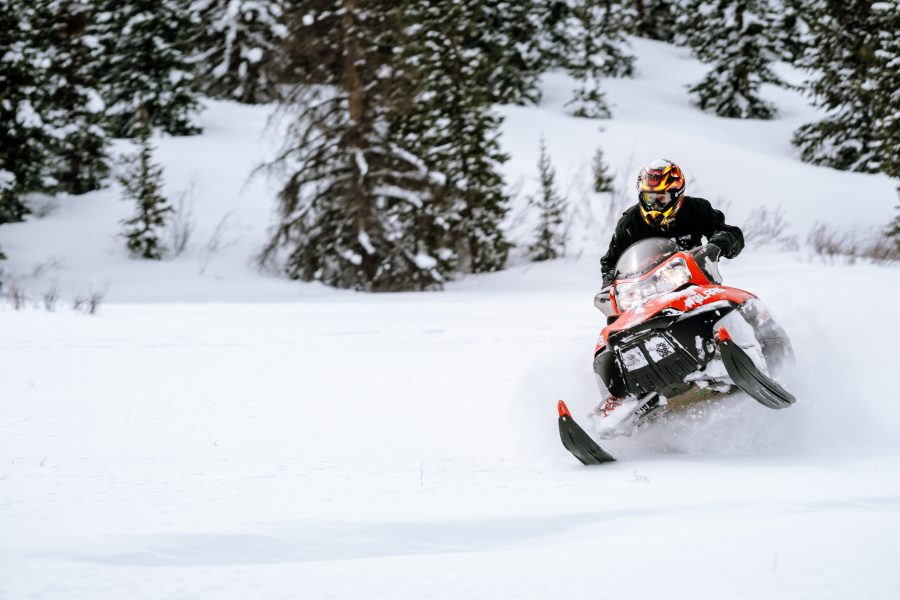 ---
Snowmobiling
Lake City has over 100 miles of multipurpose groomed trails that weave through the expansive area between Lake City and Creede.
Snowmobilers have a number of starting points, including Spring Creek Pass, Slumgullion Pass, and Alpine Plateau.
The trail system offers a variety of settings, which include meandering through forests, straight shots across plateaus, wide trails that traverse mountainsides, and trails to the tops of mountains with spectacular views of the San Juans.
Trail conditions and maps of the trail system are available from Lake City Continental Divide Snowmobile Club.
Connect with the Lake City Snowmobile Club on Facebook.
Slumgullion Pass Trails
There are two access points on Slumgullion Pass. You can explore westward from Highway 149 into the mountainous area above Lake San Cristobal and onward to the Continental Divide. Or, you can travel eastward to Deer Lake and continue southward along the edge of the La Garita Wilderness.
#1 – Deer Lakes
The Deer Lakes trailhead is on the east side of Highway 149 at the turnoff for FS Rd 788 toward Deer Lake Campground between mile markers 62 and 63. Travel eastward along the groomed multi-use trail about 4 miles then take the left turn and travel ½ mile to Deer Lakes.
#2 – Multi-Use Trail #8, Sawmill Park
The large parking area is in on the east side of Highway 149 at mile marker 66 and includes interpretive signage overlooking the Slumgullion Slide. Cross the highway to get onto the trail. This trail climbs through the trees to the Sawmill Park and continues up to Trail #3 in Rambouillet Park and further up to the Continental Divide.
Spring Creek Pass Area
There are trails headed off from both sides of the highway where the Continental Divide crosses Highway 149. Traveling westward, you'll access the huge, open mountaintop of Jarosa Mesa and an extensive network of trails taking you to remote places including Rio Hondo Reservoir State Wildlife Area and Horsethief Mountain. Or, head southward to connect with the trails on Slumgullion Pass.
#3 – Multi-Use Trail #3, Westbound
This trail starts where the Continental Divide Trail crosses Highway 149 at mile marker 55. There is a large parking lot on the west side of the highway well marked by signage and including a toilet and information signs. Travel westward along the groomed trail to a big, open mountaintop—Jarosa Mesa. This trail accesses many branches and loops marked as Trails #7, #7A, #9, #10A, #10, #11, and #3A.
#3 – Multi-Use Trail #3, Eastbound
Park in the same lot as described for #3, Westbound. You'll access the trail directly across Highway 149. After a short climb through the trees, you'll be on aptly named Snow Mesa following the Continental Divide Trail. This trail is groomed by the Creede Snowmobile Club, and you can continue to access Bristol Head or travel all the way to Creede.
Alpine Plateau Area
The Alpine Plateau stretches south from Lake City all the way to Blue Mesa Reservoir near the dam. You can follow the Soldier Creek drainage for 10 miles to Big Blue Campground. Or, you can turn south from the drainage and follow the length of the plateau all the way to Arrowhead Lodge near Highway 50.
#4 – Big Blue Campground
Parking for this multi-use trail is north of Lake City on the west side of Highway 149 between mile markers 83 and 84. It is marked with signs for Big Blue Creek and Forest Service Road 868. This trail follows along the Soldier Creek drainage for 10.8 miles to Big Blue Campground. The road is narrow and very curvy with switchbacks for the first few miles.
Big Blue Campground overlooks a picturesque valley adjacent to the Uncompahgre Wilderness. Six miles in, you can turn north onto the Alpine Plateau Snow Trail and travel about 14 miles to Arrowhead Lodge.
#4 – Alpine Plateau Snow Trail
The Alpine Plateau Snow Trail travels along Forest Service Road #867 along the top of the remarkable mesa, Alpine Plateau. The route is 16 miles long and connects with Arrowhead Lodge near Highway 50 between Gunnison and Montrose.
The Northern Trailhead is at Arrowhead Lodge, 5.5 miles from Highway 50 west of Gunnison. The Southern Trailhead is Forest Service Road #868, 6 miles from Highway 149.
Lake City Snowmobile Tours
Snowmobile Tours are available with Lake City Auto and Sports Center where guides are full-time volunteer members of Hinsdale County Search and Rescue, Hinsdale EMS, and Lake City Fire/Rescue.
Ride with Lake City Auto and Sports Center for a few days and experience beautiful scenery on different trails. Ride an average of 50 to 60 miles per day over Slumgullion or over to Arrowhead Lodge, where you can get a hot lunch.
Tours start at 9 am and run until 4:30 pm (weather permitting) seven days a week!