Cross-Country Skiing and Snowshoeing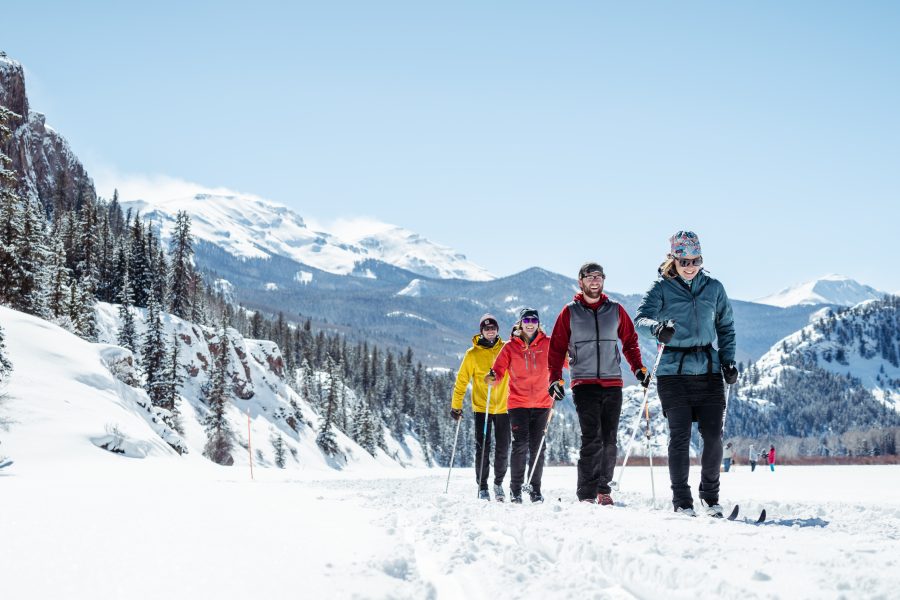 ---
Cross-Country Skiing and Snowshoeing
Lake City is a cross-country skiing and snowshoeing paradise. Not only are there trails close to town, but there are also more than 100 miles of groomed trails on Slumgullion Pass and the Spring Creek Pass Area. Some cross-country skiers also head to Lake San Cristobal, where a snow-covered frozen lake beckons those seeking a ski with a jaw-dropping background. Learn more about Winter in Lake City.
Whatever kind of cross-country ski or snowshoe adventure you're looking for, Lake City has it. Check out some the awesome destinations listed below. We promise you will not be disappointed.
Lake City Area
Henson Creek
You can count on the locals to lay a track right up Henson Creek. Start at the south end on Bluff Street and travel on the frozen surface of the creek past the ice climbing park until the boulders are too tight to navigate. Then, return on the Creekside trail or on the road for a change of terrain.
Lake San Cristobal
Winter turns Lake San Cristobal into a field of frozen winter fun. The lake provides an easy outing for those looking for a flat spot (which is not easy to find in Hinsdale County) to recreate. This location can be easily accessed from the Lake San Cristobal Boat Launch. Don't miss this epic location for your snowshoe or cross-country ski.
Alpine Gulch
Alpine Gulch is best suited for snowshoeing. The parking area is about 2 ½ miles up CR 20 (access at the south end of Bluff St) on the west side. The trailhead is on the east side and is marked with signage. This route is steep, narrow, and fun. Locals trek it regularly and keep the trail packed.
Water Dog Lake
This steep climb is better suited for snowshoeing than for skiing. To get to the Water Dog Lake trailhead, turn east off Hwy 149 and cross the bridge next to Lake City Auto. Turn left on Water St., then right on to Ninth, and then left on to Hotchkiss where you'll find the parking area. Travel up the road, then turn right just before the house and ascend the steep trail, continuing on to more level terrain on Horse Park.
Slumgullion Pass Area
There are two access points on Slumgullion Pass. You can ski or snowshoe westward from Highway 149 into the mountainous area above Lake San Cristobal and onward to the Continental Divide. Or, you can travel eastward to Deer Lake and continue southward along the edge of the La Garita Wilderness.
Deer Lakes
The Deer Lakes trailhead is on the east side of Highway 149 at the turnoff for FS Rd 788 toward Deer Lake Campground between mile markers 62 and 63. Travel eastward along the groomed multi-use trail about 4 miles then take the left turn and travel ½ mile to Deer Lakes.
Multi-Use Trail #8, Sawmill Park
The large parking area is in on the east side of Highway 149 at mile marker 66 and includes interpretive signage overlooking the Slumgullion Slide. Cross the highway to get onto the trail. This trail climbs through the trees to the Sawmill Park and continues up to Trail #3 in Rambouillet Park and further up to the Continental Divide.
Spring Creek Pass Area
There are trails headed off from both sides of the highway where the Continental Divide crosses Highway 149. Traveling westward, you'll access the huge, open mountaintop of Jarosa Mesa and an extensive network of trails taking you to remote places including Rio Hondo Reservoir State Wildlife Area and Horsethief Mountain. Or, head southward to connect with the trails on Slumgullion Pass.
Multi-Use Trail #3, Westbound

This trail starts where the Continental Divide Trail crosses Highway 149 at mile marker 55. There is a large parking lot on the west side of the highway well marked by signage and including a toilet and information signs. Travel westward along the groomed trail to a big, open mountaintop—Jarosa Mesa. This trail accesses many branches and loops marked as Trails #7, #7A, #9, #10A, #10, #11, and #3A.
Multi-Use Trail #3, Eastbound
Park in the same lot as described for #3, Westbound. You'll access the trail directly across Highway 149. After a short climb through the trees, you'll be on aptly named Snow Mesa following the Continental Divide Trail. This trail is groomed by the Creede Snowmobile Club, and you can continue to access Bristol Head or travel all the way to Creede.