---
Welcome to Lake City and Hinsdale County, Colorado!
Jagged peaks pierce deep blue skies while wildlife teems in rocky canyons and on high valley floors. Crystalline rivers flow from altitude while unique geology promises adventure and spurs endless exploration. And continuously, within this wondrous dreamscape, whispers from the past mingle with voices of the present in the cool, rarefied air of remote Hinsdale County and its historic town of Lake City.
Encompassing more than 1,000 square miles of untamed beauty, "ah factors" are a constant in this northeastern corner of Colorado's mystical San Juan Mountains. From climbers, fishermen, hunters, 4-wheel enthusiasts, and hikers to bikers, horseback riders, birdwatchers, and Old West history buffs, magical moments are spun into heirloom memories passed on and recreated generation after generation.
---
---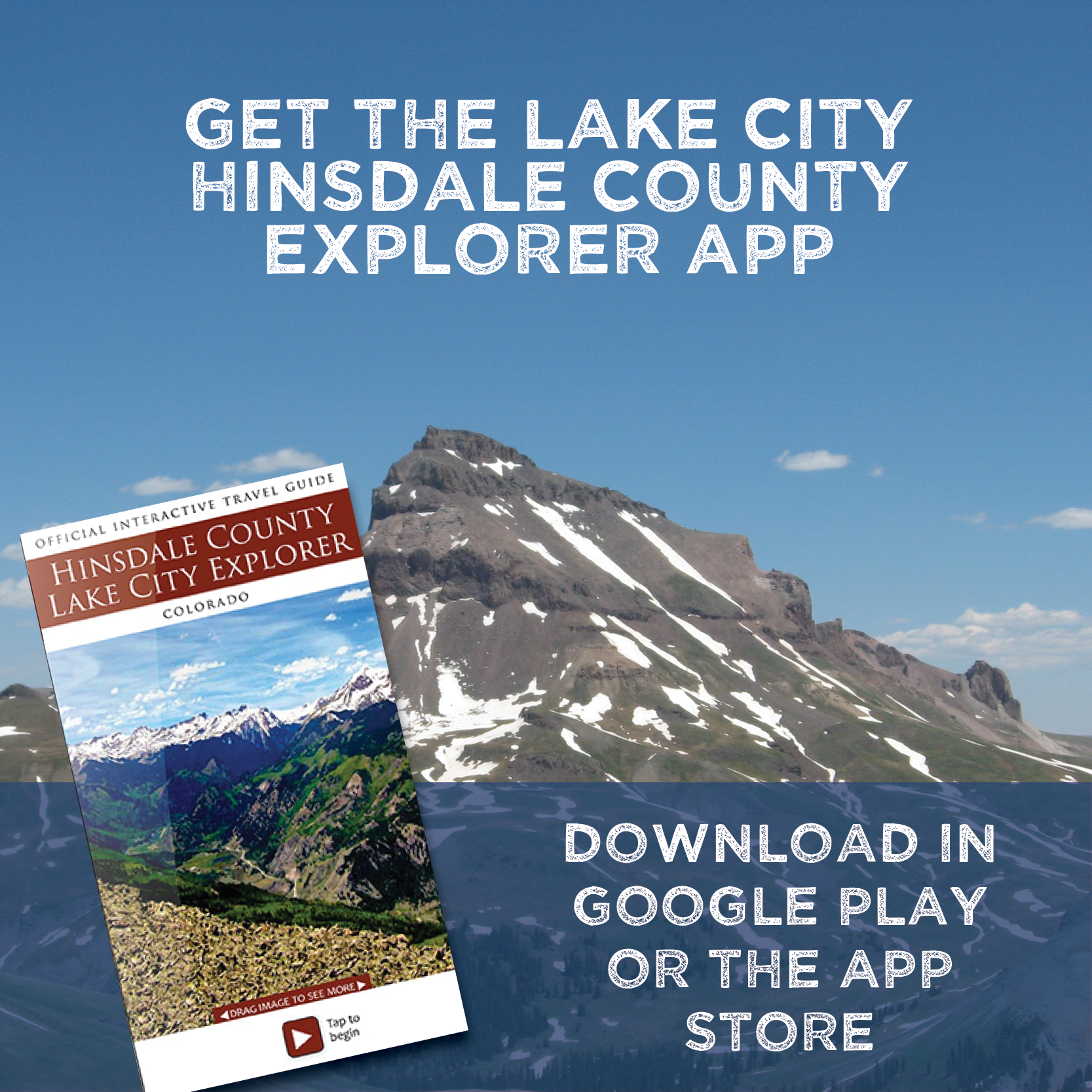 The Lake City, CO – Hinsdale County app is your resource for exploring the area. 
Available to use without the need for an internet connection, it's the perfect companion for hiking and driving across the country. 
Beautiful photography by local photographers also showcases the beauty of the area.
Get it on Google Play or the Apple App Store.
---
---
WE ARE UNIQUE BECAUSE…
Lake City is the only town in Hinsdale County.
Hinsdale County is made up of 96% public lands. That means that we have the fewest miles of roads per person, plus the most land area located far from roads, making Hinsdale County the most remote county in the lower 48.
Hinsdale County is made up of 4 wilderness areas and 2 wilderness study areas.
We are located at the crossroads of two major scenic byways: Silver Thread Scenic Byway (Hwy 149, 2 wheel drive) and Alpine Loop Backcountry Byway (CR 30/20, 2-wheel & 4WD).
We are a designated National Historic District since 1978, boasting over 200 historic structures.
We have reconstructed over 500 feet of original boardwalks in our historic downtown.
Lake San Cristobal is the second largest natural lake in the state.
We have hundreds of miles of hiking and off-road trails.
WHAT WE DON'T HAVE…
Commercial chains – no Walmart or food chains. You have to drive over an hour to find any kind of major retail or food chains.
Stop lights. There is not one stop light in Hinsdale County, there are stop signs but not many of them.
Traffic. Now July tourism can be an exception to that rule or herds of wildlife can be considered traffic, but we rarely have anything resembling city traffic.
Light pollution. Lake City has the most beautiful night skies and nothing to keep you from being able to enjoy it with a naked eye.
Noise. It is nice and quiet around here.
Elevators. There is no building higher than two stories in Hinsdale County.
UPCOMING EVENTS…
It's easy to feel right at home when you attend an event, activity, or festival in Lake City. Whether you're looking for an adrenaline-pumping adventure, a family-friendly outing, or wanting to take in the night sky with the help of an expert, there is something to do for everyone, and no matter the season, there is almost always something to do in Lake City! View events here.