11 Must-See Spots on the Silver Thread Scenic Byway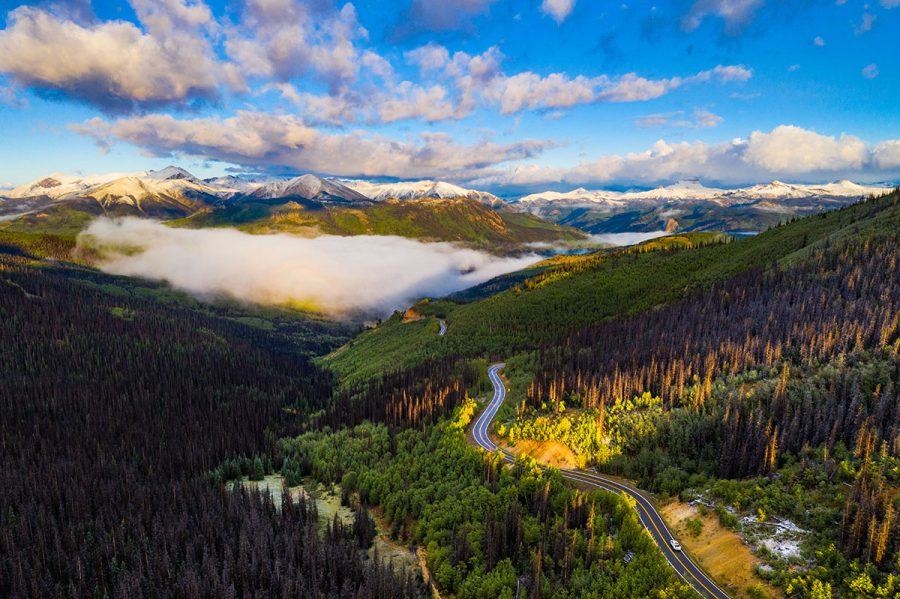 ---
11 Must-See Spots on the Silver Thread Scenic Byway
Astounding waterfalls, deep history, and jaw-dropping mountain views beckon around every curve of the Silver Thread Scenic Byway. One of the most stunning year-round road trips in Colorado, the Silver Thread runs 117 paved miles through the charming towns of Lake City, Creede, and South Fork.

Whether you're out for a short afternoon drive or an epic multi-day adventure, here are just a few of the stops that make the Silver Thread Scenic Byway worth a trip. We'll start in Lake City and head south.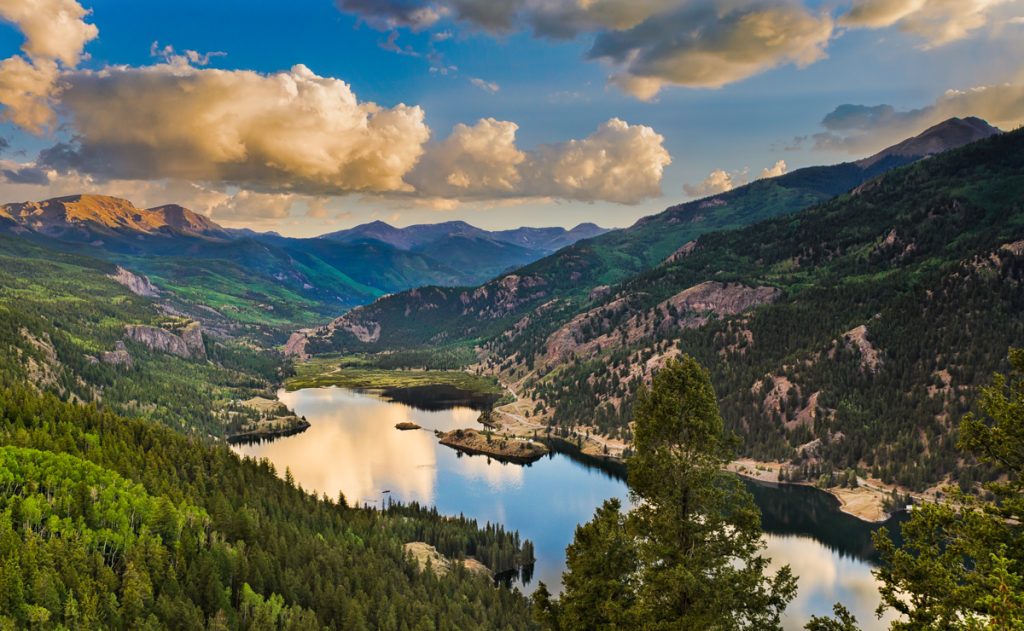 Lake San Cristobal Overlook
Kickstart your journey with a short walk to a birds-eye view of Lake San Cristobal, the brilliant blue lake that gave Lake City its name. It's the second largest natural body of water in Colorado, known for fishing, boating and more each summer and ice fishing in the winter. 
Slumgullion Earthflow
See the remains of the landslide that created Lake San Cristobal just 700 years ago, a mere blip on the geologic time scale. Millions of tons of volcanic mud and rock broke loose and flowed downhill, damming the Gunnison River and forming the lake. A second earthflow started just 300 years ago and still moves here about half an inch per day, making the trees grow at odd angles. 
Windy Point Scenic Overlook
If you stop at one overlook on the Silver Thread, make it this one. With panoramic views of Lake City's five 14ers, Windy Point is also a popular spot for sunsets and stargazing. (Restrooms available here)
Spring Creek Pass 
Two major long distance trails pass through this gorgeous picnic area: the 471 mile Colorado Trail between Denver and Durango, and the 3,100 mile trail between Mexico and Canada. (Restrooms available here)

North Clear Creek Falls
One of the most photographed waterfalls in Colorado, this dramatic cascade plunges 100 feet into a deep canyon. It's a short paved detour to the overlook in snow-free months and a short snowshoe hike in the winter, when the detour isn't plowed. (Restrooms available here)
South Clear Creek Falls 
Reach another dramatic waterfall from a short path behind the Silver Thread Campground, which has excellent aspens in the fall. In snow-free months, you can hike close enough to splash in the falls and feel the cool spray on your face. (Restrooms available here)
Bristol Head
This uniquely shaped mountain is painted gold with aspens in autumn and is a beautiful place to watch the light change at sunset. Named by a settler who missed the cliffs near Bristol, England, this imposing peak is also a popular area for snowmobiling and cross country skiing. 
Rio Grande Overlook
The 1,885-mile Rio Grande, the third largest river in the United States, begins near here in the snowy San Juans. Look for the mighty Rio Grande Pyramid, then take a detour to the Rio Grande Reservoir, known for its excellent fishing and access to pristine wilderness. See more adventures in the Upper Rio Grande. 
Freemon's General Store 
Stop for a famous burger and a handspun milkshake at the old-fashioned Freemon's General Store, 18 miles north of Creede. (Restrooms available here)
Creede
Home to "546 nice folks and 13 soreheads," as a sign at the town entrance reads, Creede was once one of the wildest mountain towns in the west. Today, it's home to the award-winning Creede Repertory Theatre and tasty restaurants, like Kip's Grill for lunch or the Bristol Head Bakery for a treat.
South Fork 
The small town of South Fork marks the end of the Silver Thread Scenic Byway: you made it! Stop for a coffee or snack at Tiny Timbers or Rachel's Keep on Keepin' On food truck, then meander back to Lake City in time for dinner. 

Driving the Silver Thread
The Silver Thread is open year-round and plowed in winter, with snow plows operating daily between 5am and 7pm. It's suitable for two-wheel-drive vehicles and motorcycles, but keep the following tips in mind: 
Watch out for deer, elk, moose, bighorn sheep, and other animals in and along the road. It's their home first, so keep your distance and wait for them to pass. 

Most of the route is gentle, but expect some hairpin turns and two high mountain passes: Spring Creek Pass, at 10,901 feet, and Slumgullion Pass, at 11,530 feet. Motorcyclists, look out for gravel in the road. 

Slumgullion Pass is the steepest highway in the state, with an incline of 9.4%. Use low gear and caution when descending this pass into Lake City.

There is limited cell service on the Silver Thread. Tell someone your plans and when to expect you back. 

Gas and restaurants are available in Lake City, Creede, and South Fork. Plan out your road trip meals so you don't get hangry and can enjoy some delicious local flavor.
Care for Colorado  
Like with every road and trail you travel, remember to Leave No Trace. That means leaving the Silver Thread better than you found it: packing out trash, sticking to trails, respecting wildlife, and not taking anything but pictures.

This special corner of Colorado is uniquely vulnerable to forest fire: in 2013, the West Fork Fire Complex nearby burned over 100,000 acres of beetle-killed timber in the Rio Grande National Forest. To help protect the forest and all the animals and people who live here, avoid fires when you can and always check for local fire restrictions. If you do start a campfire, drown it when you're done until it's cool enough to touch. Never leave a fire unattended, even for just a few moments. Learn more about Leave No Trace and how to Care for Colorado.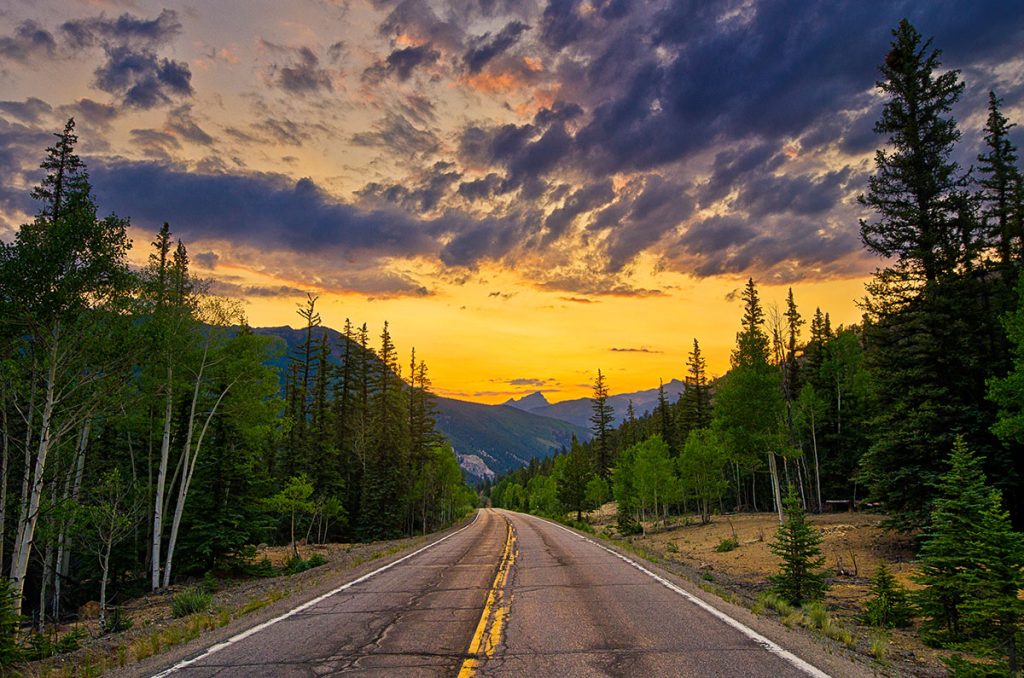 There's something for everyone on the Silver Thread Scenic Byway, from astounding natural beauty to delicious restaurants and heart-pumping hikes. 
Looking for a more rugged road trip nearby? Brave the Alpine Loop, an unpaved 4WD adventure above treeline. You could spend a lifetime in the mountains near Lake City and never run out of things to do, but the Silver Thread is a great start. 
This blog was made possible through a grant from Visit Colorado.