How to Spend a Day at Lake San Cristobal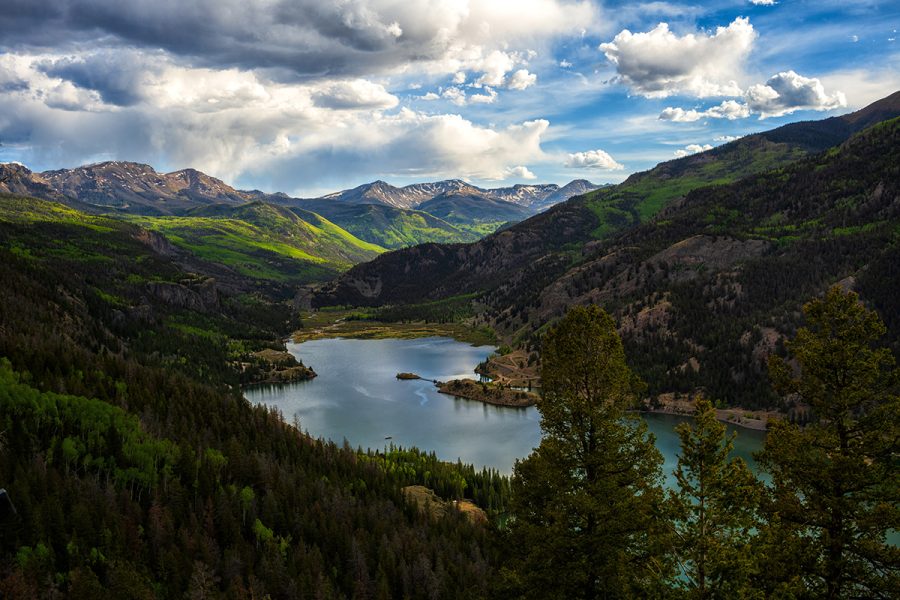 ---
How to Spend a Day at Lake San Cristobal, the "Lake" in Lake City
No trip to Lake City is complete without a day on the water —or in winter, the ice!— of glittering Lake San Cristobal, the Lake in Lake City and Colorado's second largest natural lake, and the town's namesake. With 2 miles of bright blue water and depths up to 89 feet, our lake is the perfect backdrop for whatever outdoor activity floats your boat. 

Summer at Lake San Cristobal
Slather on that SPF, grab a picnic lunch, and head to the lake for some summertime fun in the sun.
Boating and Paddleboarding
Lake San Cristobal's calm, cool waters are a dreamy place to float the day away, whether you go by stand-up paddleboard, kayak, canoe, or pontoon boat. Launch from the public boat ramp, dock, and parking area located along the west side of the lake. No craft of your own? The Sportsman offers half-day and full-day rentals on kayaks, canoes, and stand-up paddleboards.

Fishing
The fishing at Lake San Cristobal is "trout of this world," with healthy populations of rainbow, cutthroat, brook, brown, and lake trout as well as kokanee salmon. Drop a line from any shoreline public access area, including the public dock on the east side of the lake along County Road 33, or from your boat of choice.

Before you head out on the water, make sure to pick up a Colorado fishing license and brush up on the latest limits and regulations. Our expert local businesses, including Dan's Fly Shop, The Sportsman, and Alpine Outfitters, offer crucial local knowledge and equipment as well as guided trips, whether you're a seasoned angler or eager to catch your first fish. Learn more about fishing near Lake City.

Wildlife Watching
As the largest body of water in the area, Lake San Cristobal is a hotspot for wildlife, including birds like the bald eagle and osprey who fish the trout-filled waters. Small mammals like beavers make the occasional appearance, and, if you're lucky, you could see bigger animals like elk and moose. Your best bet for wildlife sightings is the marshy south end of the lake, near the Red Mountain Gulch Day Use Area on County Road 30.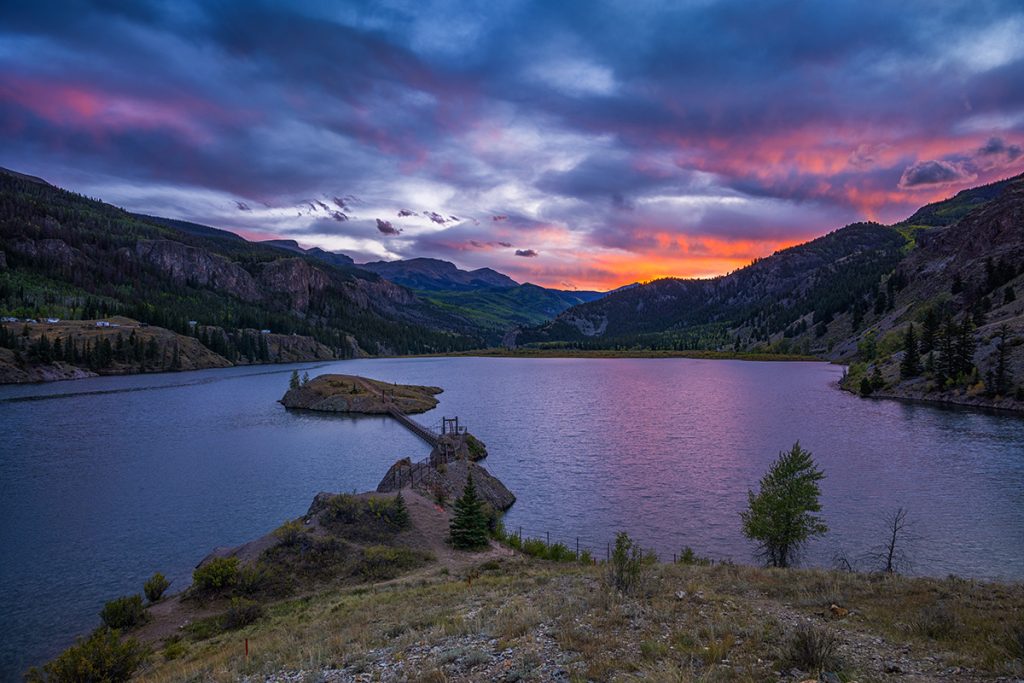 Peninsula Park
Need some island time? Cross the suspension bridge near the Lake San Cristobal boat dock to visit Lake City's newest and most unique park, located on an island in the middle of the lake.
Camping
Nothing says "summer" like roasting s'mores at a lakefront campsite under starry skies. On the eastern shore of Lake San Cristobal sits Wupperman Campground, with 31 prime campsites overlooking the lake. This county-owned public campground can accommodate RVs, cars, or tents, with vault toilets, picnic tables, grills, fire grates, water, and a dump station. Sites are first-come, first-serve, and $20/night.

Picnicking
Bring lunch for the whole family to one of the picnic tables at Red Mountain Gulch Day Use Area, a public access area off County Road 30 on the south shore of the lake. Each picnic site includes a grill, too, plus a pavilion shelter and covered grill area for larger groups. 

End your day at the lake with a classic "colorful Colorado" sunset from shore. The sky loves to put on a show here, first with rosy clouds and then with glittering stars in some of the clearest skies in the state. For a stunning bird's eye view, catch the colors from Lake San Cristobal Overlook on Highway 149.

Winter at Lake San Cristobal 
When temperatures drop each November, the smooth blue waters of Lake San Cristobal freeze into a sea of solid ice. Winter is peaceful and bright, with fewer humans and more wildlife sharing the frozen fairytale landscape.

The iced-up lake becomes a hub for winter sports like ice fishing, cross-country skiing, and snowshoeing with access on County Road 30 plowed all winter.

Ice Fishing
Colorful fishing huts dot the ice at Lake San Cristobal all winter, full of anglers hoping to catch the lake's impressive trout. The Ice Fishing Derby each February brings sportsmen from all over the country to the lake for friendly competition and camaraderie. Want to try your hand at ice fishing for the first time? Reach out to our local experts Alpine Outfitters, for a guided trip.

Snowshoeing and Cross Country Skiing
In winter, the road to access the east side of the lake isn't plowed, making it a beautiful ski and snowshoe trail. Hinsdale County boasts more than 100 miles of groomed trails for skiing, snowshoeing, and snowmobiling, many of which begin or intersect with trails near the lake.

Winter Events
Frozen Lake San Cristobal hosts several popular gatherings each winter, from the Brew-Ski and Ice Fishing Derby to the Cannibal Snowshoe Race. Check the Lake City event calendar for the latest schedule of cold-weather fun.  

How Lake San Cristobal Formed 
700 years ago, a giant landslide of volcanic rock blocked the Gunnison River and formed what is now Lake San Cristobal. A second earthflow began in the same area 300 years ago and is still slowly sliding down the mountain today. As you climb Slumgullion Pass heading south from Lake City, look for the debris path, called the "Slumgullion Slide," near mile marker 67. "Slumgullion" takes its name from the yellow soil, which looked to early residents like slumgullion stew, a yellowish stew made from fish, potatoes, and other leftovers. 
After an action-packed or leisurely day on the lake, get your land legs back with a stroll through Lake City's quaint downtown shops and restaurants.
This blog was made possible through a grant from Visit Colorado.