4 Must-Do Adventures in the Upper Rio Grande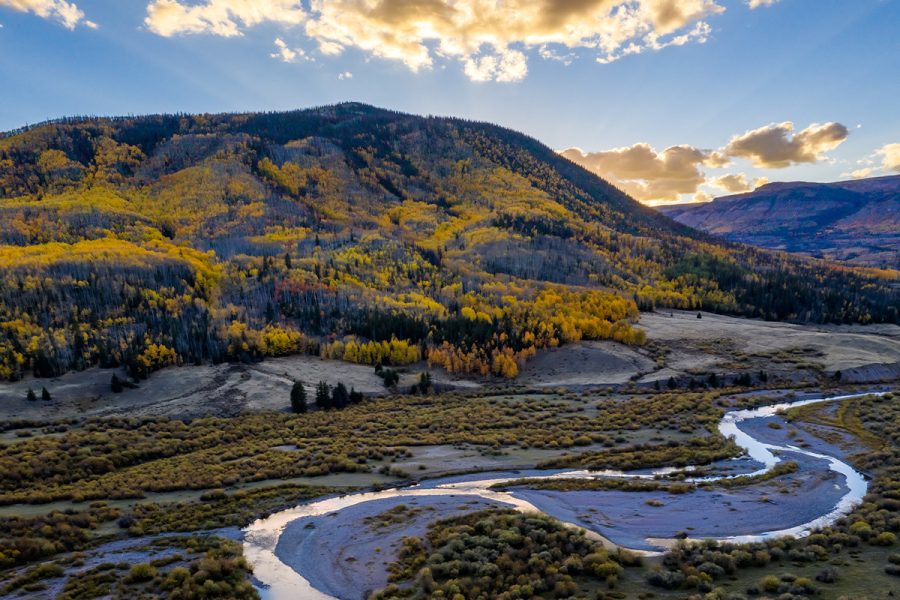 ---
4 Must-Do Adventures in the Upper Rio Grande
Less than half an hour from Lake City, and still within Hinsdale County, lies a hidden treasure for nature and history lovers: the remote Upper Rio Grande area, where the mighty Rio Grande begins its 1,896-mile journey to the Gulf of Mexico. 
Home to untouched wilderness, Gold Medal fishing waters, and golden aspens in the fall, this part of Hinsdale County is the perfect place to get away from it all. Here's how to spend your first perfect weekend on the Upper Rio Grande — because as soon as you experience it, you'll start planning your next trip back.
1. Find your new favorite fishing spot

The Upper Rio Grande area boasts some of the best fishing in the country, with the longest section of Gold Medal waters —the highest possible rating for fish— in Colorado. With over 80 lakes and reservoirs and 150 streams, you can have an entire stretch of water to yourself.

Hoping to snag a trophy trout? See a map Hinsdale, Mineral and Rio Grand counties containing some of the best Upper Rio Grande fishing spots here, including favorites like Heart Lake, or go out in search of your own. Summer and autumn in the Upper Rio Grande are a high alpine paradise, and in winter, ice fishing opportunities abound.

Fishing at the stocked Rio Grande Reservoir is a treat, just 13 miles from Highway 149 with a boat ramp and restroom. Road Canyon Reservoir, a state wildlife area, is also worth a fishing trip in its own right.

Angler Ethics
Before you hit the water, be sure to pick up a Colorado fishing license and brush up on the latest regulations. You'll need a Colorado Wildlife Stamp to enter Road Canyon and other designated wildlife areas, which you can buy as part of your hunting or fishing license or separately at any Lake City outfitter like The Sportsman, Dan's Fly Shop, or Alpine Outfitters.

By following these simple guidelines, you can help keep the Upper Rio Grande pristine:

Respect the rights of other fishermen and property owners by only fishing in allowed locations. There's a map to prime fishing spots linked in this post, but it's your responsibility to know the restrictions for each. 

Always carry a valid fishing license or SWA (State Wildlife Area) pass for the area.

Follow the daily limits and regulations for each body of water. Each limit is put in place for a reason, to keep the fish population and overall ecosystem healthy. 

Pack out what you pack in and leave each habitat as you found it.

Immediately return any accidentally caught fish, including undersized or off-limit fish, to the water.

Follow responsible

catch and release guidelines

. 

When using live bait, don't throw leftovers into the water, and don't move fish between waters, which can spread disease and introduce non-native species. 

Wash and disinfect waders or other boots that have had contact with fishing water or mud to prevent aquatic hitchhikers and invasive species from spreading.

Enjoy your time on the water and share these principles with other anglers. 

2. Travel back in time up Stony Pass
The Rio Grande Reservoir Road, also known as Forest Service Road 520, leads from the Silver Thread Scenic Byway (Highway 149) toward Stony Pass and the headwaters of the Rio Grande near the majestic Rio Grande Pyramid, visible from the turnoff.

This route was originally a stagecoach route, the main route to Silverton and other mining towns before the founding of the Durango-Silverton narrow gauge railroad. Along the way, twelve roadside interpretive signs explain the history of the region, from the nomadic Folsom people who hunted here 10,000 years ago to the miners who came to strike it rich and the ranchers who came after.

The first 19 miles of the Rio Grande Reservoir Road are easily accessible by 2-wheel-drive vehicles. After mile 19, at Lost Trail Station, you'll need a 4WD vehicle with high clearance and driver experience to continue on past Timber Hill, over Stony Pass, and into Silverton.

Some off-roaders call the route from Wager Gulch to Lost Trail, Stony Pass, and Cinnamon Pass the "alternate Alpine Loop," with rocky switchbacks and dizzying drop-offs. However, this stretch is width-restricted, only accessible strictly for vehicles 50 inches wide or less.

Lost Trail Station, originally founded in 1877 as a stage stop on the route to Silverton, still hosts travelers to the Upper Rio Grande.  In autumn, the hillsides glow with golden aspens as you head deeper into the wilderness. You might find arrowheads left behind by Ute hunting parties, or small artifacts left by travelers at long-gone stagecoach stations: leave them as you found them. 
To extend your stay, stop off at one of the several remote, public campgrounds along the Rio Grande Reservoir Road including Thirty Mile, Road Canyon, River Hill, and Lost Trail. All campgrounds in the area are first come, first served. There are also guest accommodations at a variety of ranches: San Juan Ranch, Little Squaw Resort, 30-Mile Resort, Cabins at Lost Trail, and Lost Trail Station.

3. Explore the wild Weminuche wilderness
The Upper Rio Grande is also the gateway to the Weminuche Wilderness, the largest roadless area in Colorado and, at three-quarters the size of Rhode Island, one of the largest wilderness areas outside of Alaska.

The unspoiled nature of the Weminuche makes it an ideal place to spot wildlife, including moose, elk, black bears, mountain lions, and more. Some say that grizzly bears and Bigfoot still roam deep in the forests, though there are no recent confirmed sightings of either.

The Weminuche offers fantastic multi-night backpacking routes for the avid adventurer, including trails to Ute Creek, Tabeguache Pass (formerly known as Squaw Pass), The Window, and The Rio Grande pyramid. If sightseeing by saddle is more your speed, you can also explore the wilderness from horseback on guided pack trips.

Leave No Trace
As you explore the Weminuche, follow the 7 principles of Leave No Trace to protect this precious area for future generations:

Plan Ahead and Prepare:
Know the regulations and special concerns for the area you'll visit, including what kind of vehicle you'll need to get to the trailhead. 

Prepare for extreme weather, hazards, and emergencies. On the remote trails near Lake City, cell service is non-existent and emergency services may take hours or even days to reach you. 

Carry a map and a back-up map. 

Let someone know your travel plan before you leave. 
Travel and Camp on Durable Surfaces:
Stay on the trail, even when it's muddy or wet.

Travel on durable surfaces like maintained trails and designated campsites, rock, gravel, sand, dry grasses, or snow. Avoid traveling on the fragile alpine tundra, which can take hundreds of years to grow back. 

Protect riparian areas by camping at least 200 feet from lakes and streams.

Good campsites are found, not made. Use a space that's already been disturbed instead of creating a new one. 
Dispose of Waste Properly:
Pack it in, pack it out. Carry out all your trash, leftover food, and litter. 

Utilize toilet facilities whenever possible. When there's not a toilet, pack out your own poop in a specialized "Wag bag" meant for human waste. The fragile alpine soil above the treeline can't break down large quantities of human poop. 

If you're below treeline, it's still best to use a wag bag. If you can't, dig a hole 6-8 inches deep, at least 200 feet from water, camp and trails, to bury your poop. 

Pack out all toilet paper and hygiene products.
Leave What You Find:
Preserve the past: examine, photograph, but do not touch cultural or historic structures and artifacts, including mining ruins and arrowheads. 

Leave rocks, plants and other natural objects as you find them.
Respect Wildlife:

Observe wildlife from a distance. Do not follow or approach them.

Never feed animals. Feeding wildlife damages their health, habituates them to humans, and exposes them to predators and other dangers like cars.

Protect wildlife and your food by storing food and trash securely.

Control pets at all times, or leave them at home.
Be Considerate of Other Visitors: 
Respect other visitors and protect the quality of their experience.

Be courteous. Yield to other users on the trail, especially to users hiking uphill. 

Leave your Bluetooth speaker at home and let nature's sounds prevail. Avoid loud voices and noises.

4. Grab a burger and milkshake at Freemon's

Starting out as the County seat of Hinsdale County, San Juan City, later known as the Texas Club, Workman's and eventually Freemon's, this site has always been a purveyor of fine food and drink. Now located in Mineral County, between Lake City and Creede on Highway 149, sits Freemon's General Store, a beloved outpost for handspun milkshakes, green chile burgers with fries, and other comforting classics. After a big day of fishing, Jeeping, or hiking, you can't go wrong with a Freemon's pit stop. 
If you're eager to escape reality for a few days, grab your fishing pole and camera and head to the Upper Rio Grande. You'll soon be waxing poetic, like the unknown pioneer poet who penned this lyrical love letter to the area:

"On the Upper Rio Grande"
Author unknown

There's no spot so dear to me
In all this glorious land,
As that cabin on the hillside, 
On the upper Rio Grande.
Far surpassing any picture,
Painted by a master hand,
Is the view from out my window,
On the upper Rio Grande.
There's a meadow just below it,
Where the grass grows rank and tall, 
Where the cattle graze contented,
In the springtime and the fall.
I have wandered to the oceans,
On the east and on the west,
But the upper Rio Grande,
Is the land I love the best.
I love its glorious sunsets,
With their colors rich and rare,
I love its snowy peaks,
Rising up so high and bare.
I love to fish its mighty canyons,
With their banks of rock and sand,
Where the cliffs tower high above me,
On the upper Rio Grande.
And when at last my time shall come,
And I join the unseen band,
I hope that I may be buried,
On the upper Rio Grande.
This blog was made possible through a grant from Visit Colorado.