Ice Fishing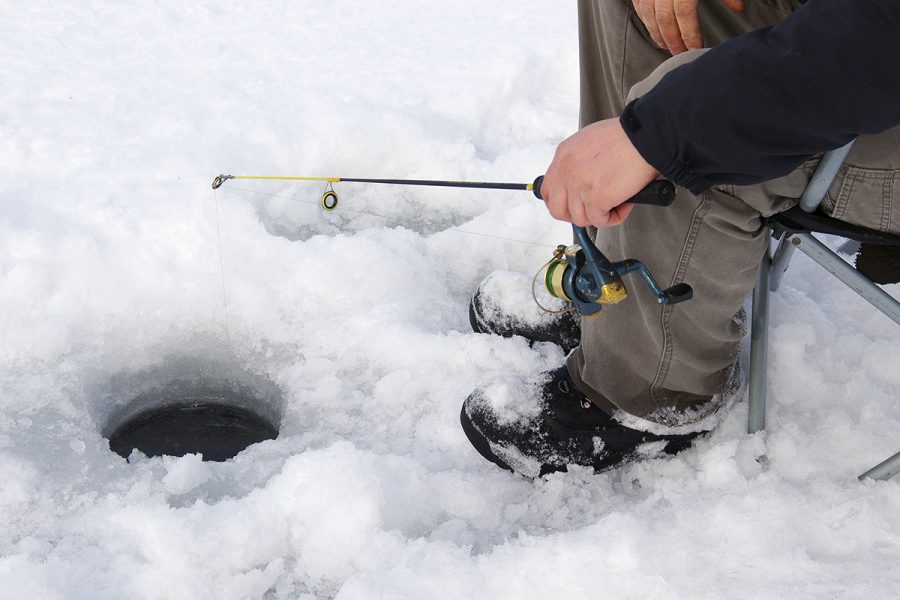 ---
Ice Fishing
Many locals and visitors can't wait for things to "ice up" in and around Lake City so they can enjoy their favorite winter sports. Fishing with bait and jigging are common Lake San Cristobal ice fishing tactics either employed from a warm fishing hut or while braving the elements.
Guaranteed ice on nearby Lake San Cristobal makes this natural lake a popular destination for ice fishermen. Not only is Lake San Cristobal close to town and the second largest natural lake in Colorado, but it's also nestled among the San Juans where gorgeous views drape every corner. As a bonus, Lake San Cristobal is one of only a few lakes in Colorado where you can leave your hut on the ice all season!
New to ice fishing? Hop on a snowmobile with Alpine Outfitters to get to the fishing spot and enjoy a day of fishing in heated huts.
In February, Lake San Cristobal's boat dock fills with fishermen vying for top prizes at Lake City's Annual Ice Fishing Derby. Test your ice fishing skills alongside fishermen from all corners of southwestern Colorado, and maybe you'll walk away with the top prize.
Check out our calendar for exact dates.
Explore the following ice fishing spots. Either take an easy drive to Lake San Cristobal or challenge yourself by trekking into the backcountry for ultimate solitude.
Lake San Cristobal
Ice fishing on Lake San Cristobal, just 4.5 miles from downtown, is super popular. Here, bait and jigging are common tactics that result in lake trout—sometimes one too big to fit through the hole!
To get to Lake San Cristobal, follow Highway 149 south out of Lake City, then turn west at the big Lake San Cristobal sign onto CR 30. The lake is one mile from here.
Water Dog Lake
The ambitious adventurer can climb 3.8 miles to this remote lake where some locals believe a possible brook trout state record resides. Although the trailhead is right downtown, it's best traveled using snowshoes.
To get to the Water Dog Lake trailhead, turn east off Hwy 149 and cross the bridge next to Lake City Auto. Turn left on Water St., then right on to Ninth, and then left on to Hotchkiss where you'll find the parking area. Travel up the road, then turn right just before the house and ascend the steep trail, continuing on to more level terrain on Horse Park.