The Lake City Ice Park: Big Walls, Small Town Charm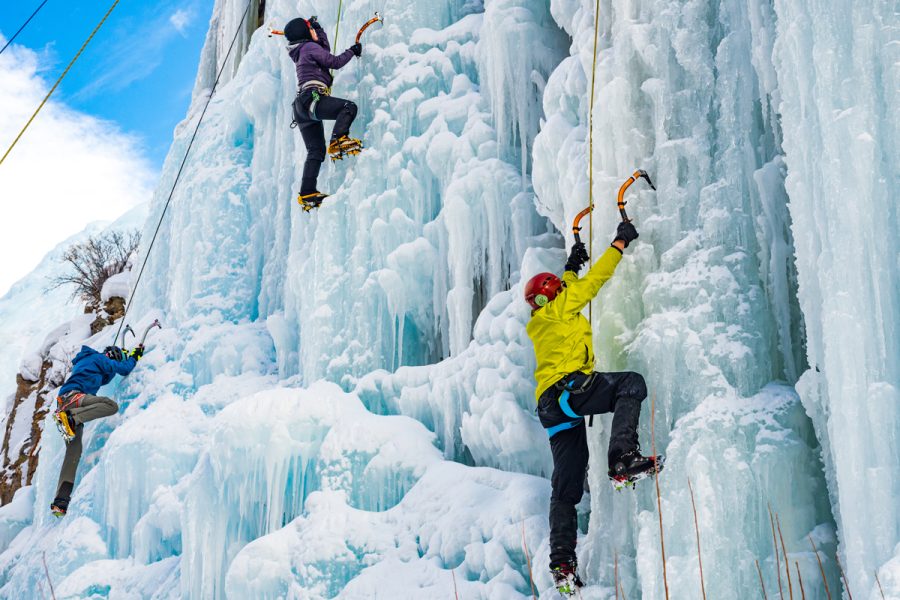 ---
The Lake City Ice Park: Big Walls, Small Town Charm
Looking for a low-key, crowd-free ice-climbing adventure? Look no further than the Lake City Ice Park. Located just one block away from Lake City's quaint downtown, the Ice Park feels like another world, with 100-foot-tall brilliant blue walls of ice.

Whether you're a seasoned ice climber or a visitor who's never set foot on a wall, the Lake City Ice Park is the perfect place to learn, make new friends, challenge yourself, and enjoy the crystalline magic of winter in the mountains.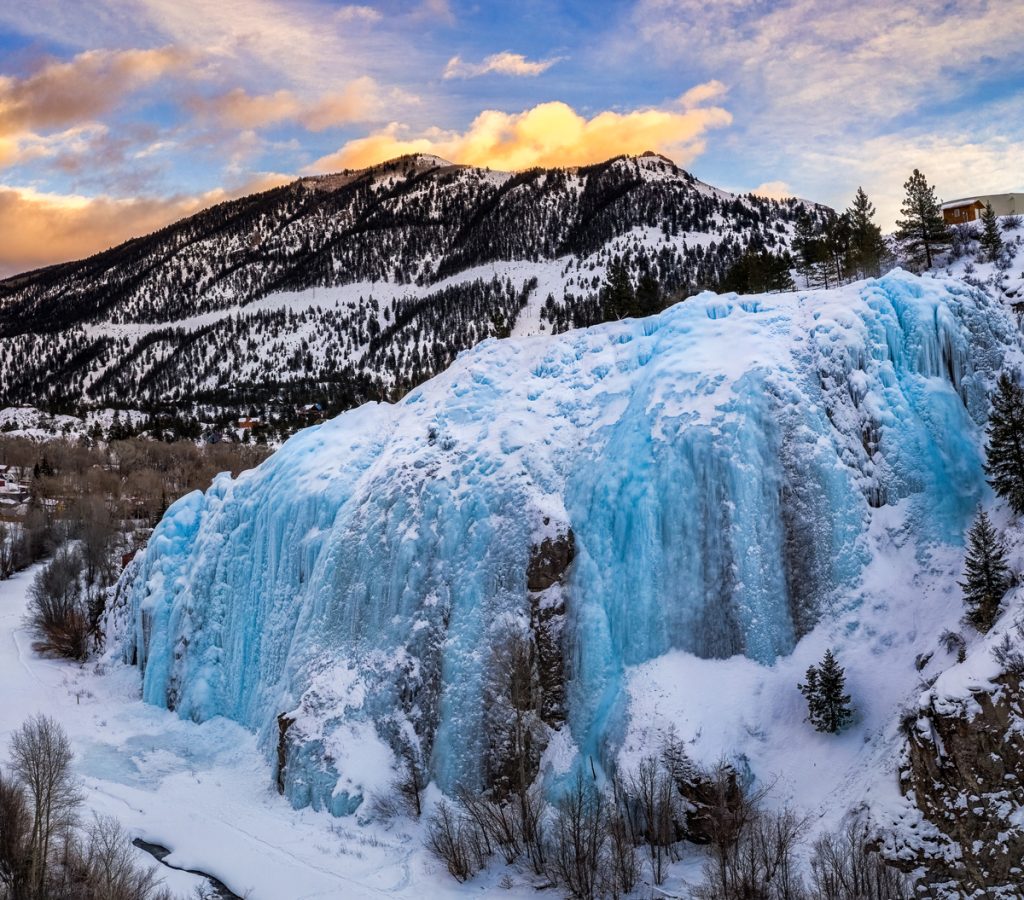 Visiting the Lake City Ice Park

The Lake City Ice Park boasts two premier ice climbing areas in the canyon above Henson Creek, farmed each season by the Town of Lake City Parks and Recreation staff. There are 40 routes total, with something for every skill level. The best part? No crowds, which means less time waiting and more time climbing than at busier ice parks. All climbs are free, with toilets, fire pits, and a warming tent with a wood stove. It's open November to March, weather permitting, and is fun for the whole family, including your furry friends. 
The original climbing area, Pumphouse Park, has 15+ routes with 60 to 100+ foot pitches with mixed grades WI-3 and up. The Beer Garden area, just .25 miles down CR 20 from the Pumphouse, has 30+ routes with 70 to 110+ foot pitches across over 900 feet of fresh climbing terrain. The newest section, Dynamite Shack, is the highest yet, with routes over 170'+. Be ready to extend anchors at least 25 meters, and remember that all climbing is at your own risk. Learn more about the park here.
New to ice climbing? Whether you're just getting started or sharpening your wall-scaling skills, let the pros show you the ropes (literally) with guided climbs at the Lake City Ice Park.

Need ice climbing gear? You can rent climbing gear in town from San Juan Soda Co, and grab a tasty treat or thoughtful Colorado gift while you're at it. The Ice Park is "climb at your own risk," so get a guide if you're not confident in your skills yet. 

Not a thrill seeker? No problem! Watching the ice climbers from the cozy fire pits or warming huts below the wall is almost as fun as climbing, especially when you can watch the professionals compete at the Lake City Ice Climbing Festival. If you prefer more down-to-earth winter sports, Lake City has 100+ miles of groomed trails for skiing, snowshoeing, and snowmobiling instead.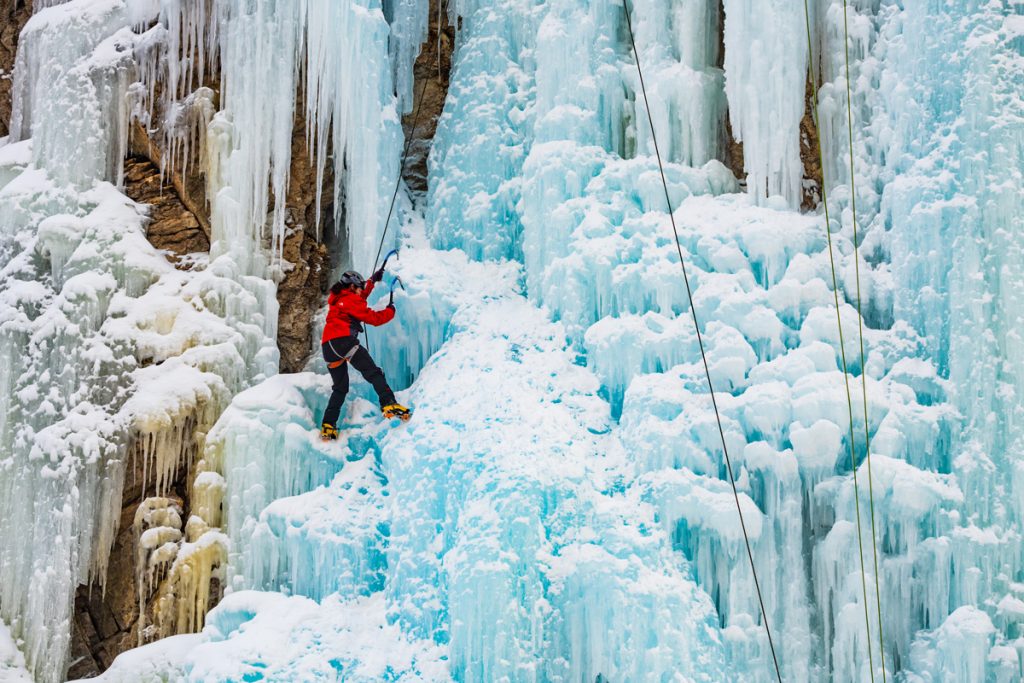 The Lake City Ice Climbing Festival 
Each February, the Lake City Ice Park is home to the Lake City Ice Climbing Festival, drawing winter lovers from all over Colorado and beyond.  
The central event is an ice climbing competition, where some of the best climbers in the world race for speed climbing glory. But you don't have to be a pro to participate: clinics and workshops are open to everyone, from beginner to advanced.

The Ice Climbing Festival is the social event of the winter, with parties and bonfires to keep folks warm and entertained. Whether you're a climber, a climber's cheerleader, or a spectator, you'll have fun around the fire with friends new and old.

What to bring to the Lake City Ice Park 
It's no surprise that the Lake City Ice Park is chilly in winter, especially if you're spectating instead of climbing. Bring your warmest, windproof winter layers, but don't the sunscreen, too: the UV rays are strong at this elevation, even on the coldest days. 
Thankfully, the Ice Park includes several fire pits stocked with firewood and a warming hut to duck inside and thaw out. Bring a thermos with your favorite hot beverage, plus a snack to keep your energy up. (Bonus: bring enough snacks to share with new friends, or a treat for the crag dogs.)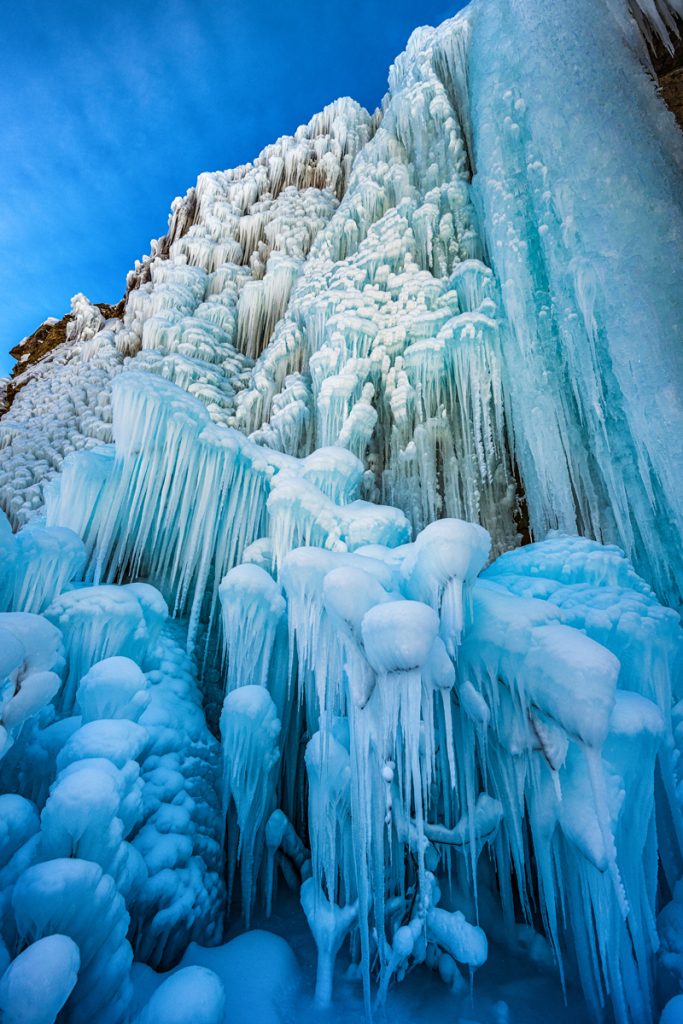 More Ice Climbs Near Lake City 
The ice at the Lake City Ice Park may be farmed, but you don't have to go far for naturally stunning frozen waterfalls in the wild. If you want to challenge yourself in a less controlled environment, check out the following natural ice climbs nearby:
Sherman Falls
For expert climbers, Sherman Falls is a beautiful 4-pitch, W15 line backcountry waterfall. From Highway 149 just south of Lake City, turn west onto CR 30 towards Lake San Cristobal. Continue about 12 miles and then take the left fork in the road. The Sherman ghost town and waterfall are less than a mile from here. 
North Clear Creek Falls
This stunning waterfall plunges 100 feet into an icy canyon off Highway 149, the Silver Thread Scenic Byway, about halfway between Lake City and Creede. You can walk or snowshoe to the overlook, then leave friends or family there to watch you climb the 100-foot falls. 
Warm up at Local Businesses 
During a frosty day at the ice park, thaw out with a hot drink from one of our warm, welcoming restaurants or a local beer at Lake City Brewing Company. Come for the ice climbing, and stay for the small-town charm that makes Lake City winters so special.
More Winter Activities in Lake City

Lake City's laid-back winters mean lots of familiar faces in town, so you'll feel like a local fast. Check out our list of 17 Fun Things to Do in Lake City This Winter, including activities like:

Snowmobiling
With over 100 miles of multipurpose groomed trails weaving through the backcountry between Lake City and Creede, Hinsdale County is a snowmobiler's dream come true. Access the trail network from several snowmobile entry points along Highway 149, including Spring Creek Pass, Slumgullion Pass, and Penniston Park.
Backcountry Skiing and Snowshoeing 
It's easy to find solitude on skis and snowshoes near Lake City, taking advantage of the 100+ miles of trails groomed for winter sports. 
Ice Skating
Kids and kids-at-heart love ice skating at Lake City's Memorial Park, open from December to March (weather permitting) at the intersection of Bluff and 3rd streets. You can also skate on wild ice at Lake San Cristobal, the "lake" in Lake City.
Hinsdale Haute Route 
Colorado's highest hut-to-hut route features two (soon to be three) fully-stocked, insulated yurts that can sleep six to eight people, all with stunning alpine views from the top. Each hut features a cozy wood stove, propane stove with oven, lanterns, kitchen utensils, and comfy bunk beds and cots. Book your self-guided or sherpa-assisted trip at HinsdaleHauteRoute.com.
Lake City Ski Hill and Terrain Park
Lake City Ski Hill is what Colorado skiing used to be: local, affordable, and family-friendly fun. Enjoy low prices on day passes —just $25 for adults and $15 for kids under 18— including free gear rentals, plus a terrain park to practice jumps and tricks. Lake City Ski Hill is a great place for families and first-timers, with affordable lessons for beginners. 
Fat Biking 
Winter in Lake City is made for fat biking, with 100+ miles of wide, smooth multi-use groomed trails. Zoom down trails branching from the Continental Divide, with stunning views of the San Juan mountain range, including the iconic Uncompahgre, Wetterhorn, and Matterhorn Peaks, on every side.  
Winter Wildlife Watching
When the summer crowds disappear, it's the animals' time to shine. Take a scenic winter drive on Highway 149 and you might catch a glimpse of Lake City's most elusive year-round residents like mountain lions, moose, bighorn sheep, bald eagles, mountain bluebirds, and red foxes silhouetted against the snow. Winter is also a great time to catch our local families of moose, elk, and deer enjoying their natural habitat undisturbed by traffic. 
This blog was made possible through a grant from Visit Colorado.