Snowshoe to a Frozen Waterfall: North Clear Creek Falls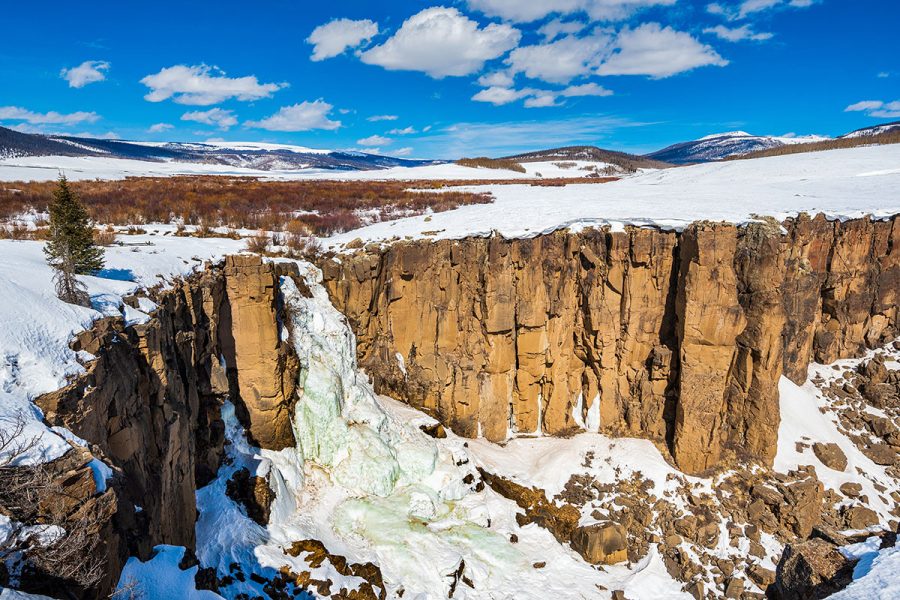 ---
Snowshoe to a Frozen Waterfall: North Clear Creek Falls
Lake City is the perfect base camp for a visit to North Clear Creek Falls, one of the most photographed waterfalls in Colorado. Most visitors only see it in the summer months, but in the winter, this dramatic 100-foot waterfall transforms into solid ice, ice, baby!, rewarding the winter climbers, snowshoers, and snowmobilers who make the scenic 25-mile drive from town. 
The falls are typically frozen from mid-November to March, creating a winter wonderland of giant icicles. Pack a thermos of hot coffee or cocoa, slide on your thickest layers, and enjoy a true Colorado classic.


Getting to North Clear Creek Falls in Winter
North Clear Creek Falls is located roughly halfway between Lake City and Creede on the Silver Thread Scenic Byway, Highway 149. The highway is plowed year-round but the half mile road to the falls is not, making it an easy half-day winter snowshoe adventure from Lake City.

From Highway 149, pull off and park next to the North Clear Creek Falls sign on the highway or in the plowed parking lot on Forest Service Road 513 to begin your trip to the falls. The view of icy North Clear Creek Falls as it plunges into Willow Canyon is spectacular, and you may even spot ice climbers making their way up the crystal-blue frozen falls. 
The trail to North Clear Creek Falls from the parking area on FS Road 513 to the falls themselves is about a mile with zero elevation gain and no avalanche risk, making it perfect for beginners. The route is groomed for snowmobiles, skiers, and snowshoers and is often packed down by previous visitors, meaning you can get away with using microspikes instead of snowshoes — but it's still a good idea to bring snowshoes along, in case you're breaking new ground or plan to step off trail.
For a longer, more challenging trek, you can continue from the parking area to Rito Hondo Reservoir or Black Mountain northwest of the falls on the winter-groomed multi-use trail. You'll be rewarded with stunning views of Bristol Head looking towards the town of Creede, as well as more chances to see winter wildlife. 

Tips for Safe Winter Recreation 
Apply Yourself (Wear Sunscreen): The winter air may be frigid, but the sun still burns bright at high elevations around Lake City. Apply and reapply sunscreen often, especially in snowy areas where the sun's reflection makes sunburns more likely.

Don't Be Blinded by the Light (Eye Protection): The dazzling combination of bright sun and white snow at altitude can be dangerous for your eyes, so always wear sunglasses or snow goggles. Make sure your eye gear has a minimum 99% UV protection, in a wrap-around or full goggle style that protects your eyes at all angles. If your eyes absorb too many UV rays, you could suffer from painful snow blindness, which can temporarily reduce or permanently damage your vision (and keep you from enjoying the gorgeous Hinsdale County views.)

Better Safe than Soggy (Warm Layers): To stay warm and dry while moving in winter, a good layering system is key. If you're sweating through your layers, you're wearing too much, and risk getting dangerously cold when you stop moving. For best results, wear a moisture-wicking layer close to your skin, a thick insulating layer like a fleece in between, and a waterproof, wind-resistant layer on top. Remove layers as you sweat and replace them when you stop. Getting wet in winter is the biggest risk of all, so always bring a waterproof layer and an extra dry layer, even if the forecast looks good. 
Buddies and Backups (Navigation): The smoother winter terrain and blowing snow can make navigation more difficult, so bring a map and a backup map — ideally, one digital version and one paper one. Cold weather compromises batteries, making your devices die faster. The best backup of all, though, is the buddy system: winter activities are more fun with friends! If you do venture out alone, make sure someone knows where you're going and when to expect you back. 
Be Colo-Ready: Colorado winter weather is unpredictable, so make sure to check the latest road closures and conditions at COTrip as well as the latest weather forecast before you go. And before you venture out, take the Colorado Backcountry Winter Safety Awareness Pledge to protect yourself and others while exploring. 
The History of North Clear Creek Falls 
The area around North Clear Creek Falls was once part of the Antelope Park-Lake City Toll Road for horse-drawn wagon travel, built in 1875 for just $5,000. Built to tap into Lake City's wealth during the mining boom, the route was used by the Barlow & Sanderson's Stage Co. with waystations located twelve miles apart. The stage only operated in summer and took thirty-six hours to travel the 85 miles from Del Norte to Lake City —a trip that now takes less than two hours on Colorado 149— and cost $16.70 a person.

The stagecoach route fell out of popularity with the arrival of the railroad to Gunnison in 1885, but found new life during the 1890s silver boom when miners struck silver near Creede. This mining route between Creede and Lake City became Highway 149 in 1933, but remained unpaved until 1968. 
Stop for a moment at the overlook to read about the original inhabitants of Hinsdale County, the Folsom people, who kept their highest-known hunting camp —Black Mountain, elevation 10,120 feet— near here more than 10,000 years ago. 
The Folsom culture is known for their distinctive fluted arrowheads carved from flint and chert, some of which were found nearby. Archaeological evidence shows that the Folsom people only used this area seasonally, setting up temporary camps as they hunted the elk, deer, and bison that roamed the hills after the Ice Age. 
You can also learn about the volcanic origins of the region from the colorful interpretive signs at the overlook. The rock shelf that now forms North Clear Creek Falls, known as Nelson Mountain Tuff, formed in an enormous volcanic eruption 27 million years ago — just one of many eruptions that created the dramatic San Juan Mountains. 
Between June and August, North Clear Creek Falls is home to the rare black swift, a bird that nests in shady nooks kept cool by the spray from the falls. When it's cold, though, you won't find them here: the black swift migrates south to Brazil for winter, making a roundtrip journey of nearly 9,000 miles each year. 

Winter Wildlife Opportunities 
The red-stemmed willows bordering Highway 149 are the perfect setting to spot moose, while the snowy meadows host herds of elk and deer. If you're lucky, you might even spot one of Lake City's more elusive residents, like the red fox, mountain lion, or bluebird silhouetted against the snow. Pack your patience — and your binoculars!

Remember to keep a respectful distance from wildlife at all times, especially in the winter when every ounce of energy is crucial for survival. Spooking an animal that uses its fat reserves to run away from you could make it harder for them to survive the cold, harsh winter. 
Ice Climbing at North Clear Creek Falls 
For experienced ice climbers, North Clear Creek Falls is a popular climbing route, rated an easy WI3. Friends and family can watch from above at the fenced overlook.
For even more frozen waterfall climbing action, check out South Clear Creek Falls, just 4 miles from North Clear Creek Falls and also rated WI3. Climbers typically toprope both of the falls, approaching from the top and rappelling to the bottom.

Not ready to tackle a frozen waterfall just yet? Stop by the Lake City Ice Park for tamer terrain on one of the town's farmed ice walls, or just sit by one of the communal firepits and watch the climbers do their thing. 
More Winter Activities Near Lake City
Ice Skating
Kids and kids-at-heart love ice skating at Lake City's Memorial Park, open from December to March (weather permitting) at the intersection of Bluff and 3rd streets.
Hinsdale Haute Route 
Colorado's highest hut-to-hut route features two (soon to be three) fully-stocked, insulated yurts that can sleep six to eight people, all with stunning alpine views from the top. Each hut features a cozy wood stove, propane stove with oven, lanterns, kitchen utensils, and comfy bunk beds and cots. Book your self-guided or sherpa-assisted trip at HinsdaleHauteRoute.com.
Lake City Ski Hill and Terrain Park

Lake City Ski Hill is what Colorado skiing used to be: local, affordable, and family-friendly fun. Enjoy low prices on day passes —just $25 for adults and $15 for kids under 18— including free gear rentals, plus a terrain park to practice jumps and tricks. Lake City Ski Hill is a great place for families and beginners

Fat Biking 
Winter in Lake City is made for fat biking, with 100+ miles of wide, smooth multi-use groomed trails. Zoom down trails branching from the Continental Divide, with stunning views of the San Juan mountain range, including the iconic Uncompahgre, Wetterhorn, and Matterhorn Peaks, on every side.  
Ice Fishing
Ice fishing on the "lake" in Lake City, Lake San Cristobal, is just 4.5 miles from downtown. Fishermen set up winter fishing tents on the lake to catch trout via bait and jigging, and some even venture into the backcountry in search of the perfect catch. 
When you're done walking in a winterland, warm up with a cozy beverage and full meal at one of Lake City's delicious restaurants. You earned it! 
This blog was made possible through a grant from Visit Colorado.