A Guide to Hiking Lake City's Five 14ers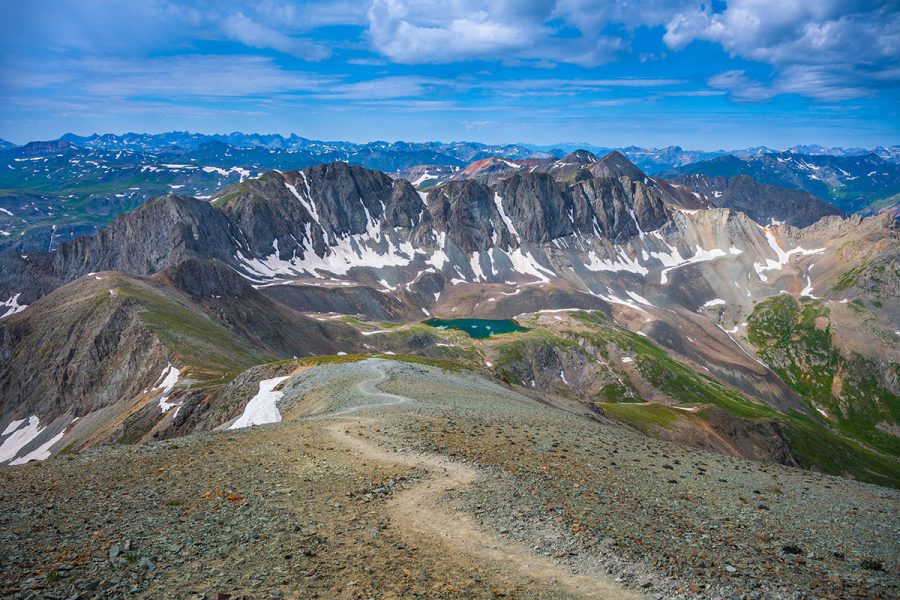 ---
A Guide to Hiking Lake City's Five 14ers: Handies, Uncompahgre, Wetterhorn, Sunshine, and Redcloud
If you've never hiked a 14er before, Lake City is a great place to start — and if you're a seasoned peak bagger, there are more than enough scrambly summits to satisfy your inner mountain goat. Five of Colorado's famous "14ers," or mountains above 14,000 feet in elevation, are easily accessible from Lake City: Handies Peak, Uncompahgre Peak, Wetterhorn Peak, Sunshine Peak, and Redcloud Peak.

Here's a quick guide to hiking the five fourteeners near Lake City, from the beginner-friendly to the rough and rugged, while protecting their pristine beauty.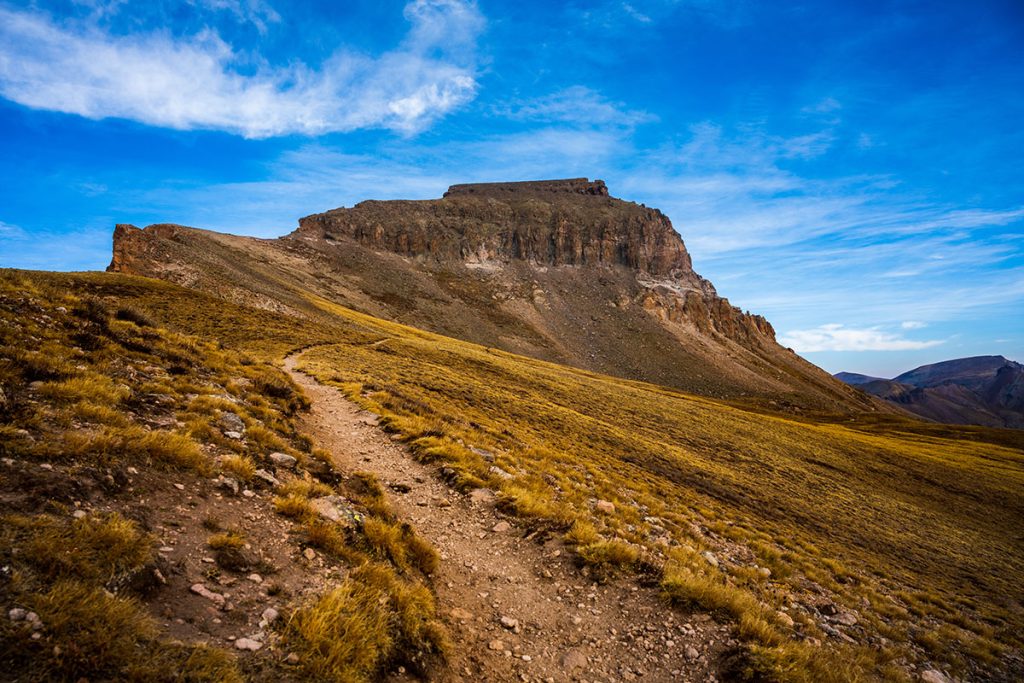 Hiking Handies Peak 
Handies Peak is the most beginner-friendly 14er near Lake City and also one of the most approachable 14ers in all of Colorado. The route is rated Class 1, which means it doesn't require any technical skills or scrambling to reach the summit: just fitness, patience, and preparation.

Starting at the Grizzly Gulch Trailhead, the trail is 8 miles roundtrip with some minor Class 2 sections, with gorgeous wildflowers in June and July. If you have a high-clearance 4×4 vehicle, you can also park at the upper trailhead, American Basin, and hike the Class 1 route 5.5 miles roundtrip to the summit. Both routes are strenuous but relatively straightforward. When you make it to the summit, savor stunning 360º views of the San Juan mountain range and glittering turquoise alpine lakes below. 
Hiking Sunshine and Redcloud Peaks

For many hikers, Sunshine and Redcloud Peaks are a two-for-one deal: after you climb to the summit of Redcloud, you can follow a moderate saddle to the summit of Sunshine with little additional elevation gain. From the Silver Creek trailhead, the 12-mile trail hitting both peaks is a Class 2, meaning it requires no technical equipment —though we do recommend hiking poles for extra traction.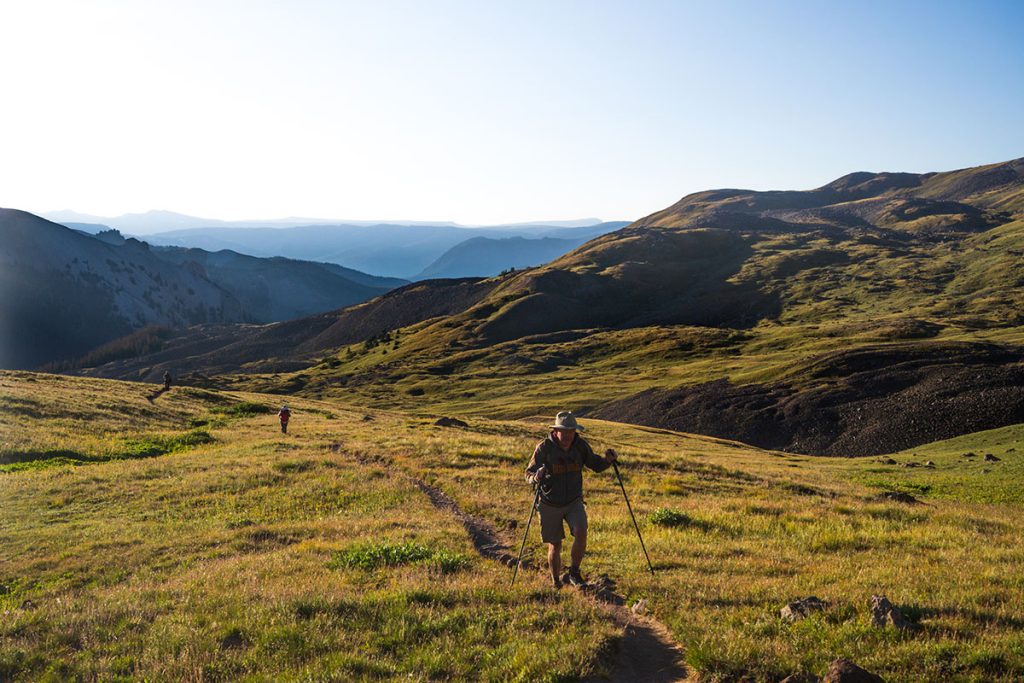 Hiking Uncompahgre Peak
Uncompahgre Peak's distinctive profile stands out from many scenic San Juan viewpoints, and it's even more memorable up close. After a long 4 mile drive up the 4wd only Nellie Creek road start at the Nellie Creek trailhead, this 7.5 mile route is a Class 2 hike with a slight scramble at the top and a jaw-droppingly gorgeous summit panorama.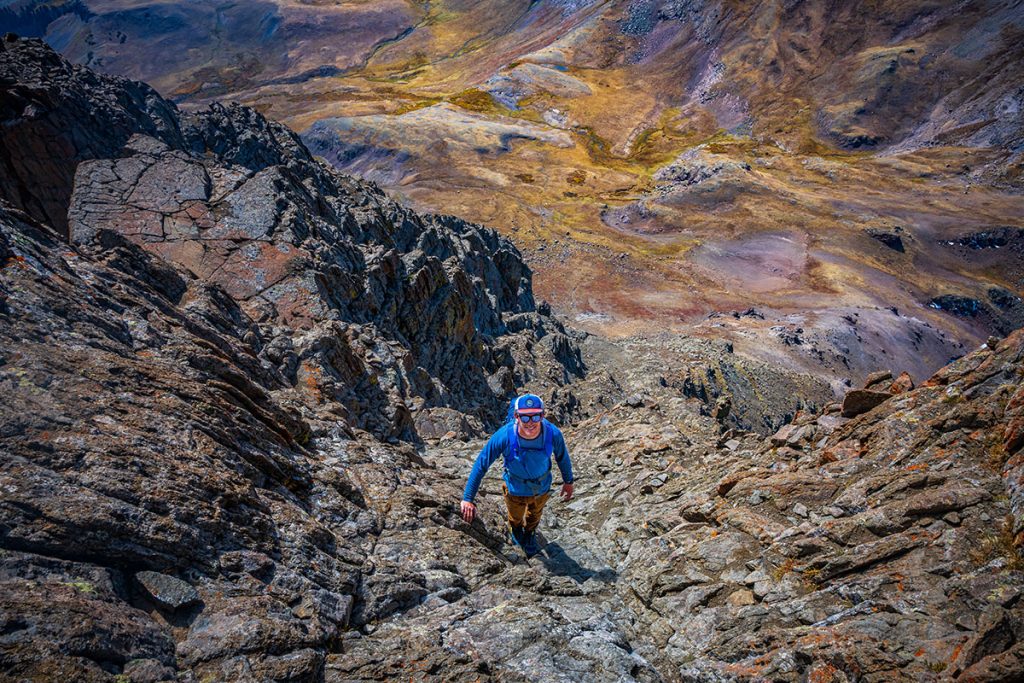 Hiking Wetterhorn Peak 
Wetterhorn Peak is the most difficult 14er in the Lake City area, but with summit views that make it well worth the climb. Starting from the Matterhorn Creek trailhead, this route gains 3,300 feet in 7 miles, with an exposed Class 3 scramble near the top that opens up to screensaver-worthy views. 
Are You Colo-Ready? How to Practice Leave No Trace


All of Lake City's 14,000-foot peaks sit in the alpine tundra, a fragile ecological zone above treeline. That lofty height is part of what lends the mountains their magic, but it also makes them more vulnerable to human impact. Here's how you can be Colo-Ready and protect the peaks for generations to come.

Pack Out Your Poop:
The trailhead for each 14er near Lake City has a pit toilet nearby, but there are no toilets at the summit or along the trail. The thin soil of the alpine tundra can't effectively break down human waste like normal soil can, so it's best to pack out all of your waste: yes, including your own poop. To pack out your poop, you can purchase a disposable "wag bag," which contains toilet paper and deodorizing poo powder.
Stick to the Trail:
By staying on trail, you can protect the homes of Colorado's cutest locals: our wildlife. Shortcuts may be tempting, but can widen trails, increase erosion, and threaten our plants and animals.

Prevent Fires:
Always follow local fire restrictions. If fires are allowed, keep them small, and only light them when it's not windy. When you leave a fire, drown it completely until it's cool enough to touch.

Take Only Pictures, Leave Only Footprints:
Leave flowers, plants, and rocks exactly as you find them so other hikers can enjoy. Carving trees can hurt or kill them, and litter can kill vulnerable wildlife. Bring every piece of trash you pack in home with you, even crumbs and food scraps. 
Keep Wildlife Wild:
The Lake City area is home to thousands of adorable animals, from moose and bears to deer, marmots, foxes, and more. To keep them —and yourself— safe, never approach or feed them, pack out all your trash, and store your food and smellies in bear-proof containers or vehicles. 

How to Hike a 14er Safely

There's no such thing as an "easy" 14er: every alpine adventure comes with risks. Follow these tips to summit safely — and get back down safely, too!

Be Prepared: The weather at altitude can shift in an instant, from sunny and warm to cold and hailing. Always pack extra layers, including a warm jacket, waterproof rain shell, hat, and sunglasses, regardless of the forecast. Remember to pack a map, a first aid kit, and plenty of extra snacks and water.  
Watch the Altitude: Hiking at 14,000 feet can cause altitude sickness, even if you're athletic and accustomed to hiking at altitude. Take lots of breaks for food and water, especially if you're traveling to Lake City from lower elevation. If you start to feel dizzy, weak, or nauseous, turn around: the mountain will still be there another time.

Look Out for Thunderstorms: For your best chance at a successful summit, start your 14er hike as early in the day as possible and plan to be off the mountain before afternoon, when summer thunderstorms are most likely to hit.

Make a Safety Plan: Before your hike, make sure someone knows your plan and when to expect you back. If you can, carry a satellite communicator to reach friends and family back home. 
High Alpine Races
If hiking the five Lake City 14ers isn't quite challenging enough for you, there are also three epic races that take place every year.
"High Five 100" Run
Designed for experienced alpine ultrarunners, the High Five 100, a suffer-fest of a route, links all five 14,000-foot peaks for a whopping 40,000+ feet of elevation gain over 100 miles. Runners are meant to complete the challenge within 48 hours, starting and ending in Lake City. 
San Juan Solstice 50-Mile Run 
Each June, endurance athletes head to Lake City for the San Juan Solstice 50, a gorgeous 50-mile trail running loop through some of the area's best scenery. The route starts in Lake City and soon the runners are in forests with many stream crossings, ridge running, epic alpine views, and spring wildflowers, with all proceeds benefiting Lake City's volunteer EMTs.
Whatever alpine adventure you choose, end your trip with a well-deserved bite at one of Lake City's fabulous restaurants, from burgers and beer at the Cannibal Grill to lip-smackin' BBQ at Southern Vittles. You'll be planning your next Lake City summit in no time. 
Lake City Alpine 50-Mile Bike Race
The Lake City Alpine 50 is an epic, 50-mile, alpine endurance bike race with 6,000+ feet of climbing starting and finishing in Lake City. Learn more.
This blog was made possible through a grant from Visit Colorado.