17 Fun Things to Do in Lake City This Winter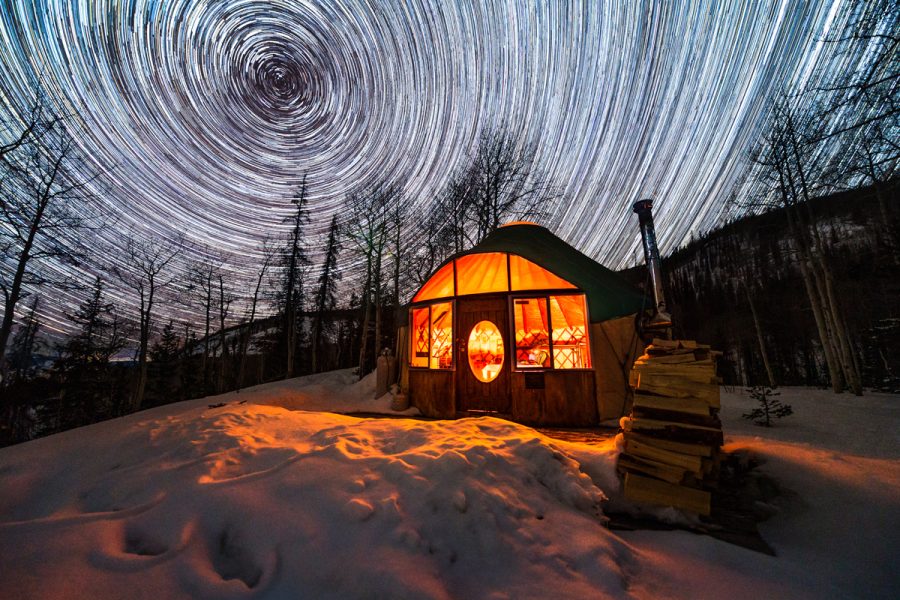 ---
17 Fun Things to Do in Lake City This Winter
17 Fun Things to Do in Lake City This Winter
Winter in Lake City is Colorado like it used to be: bluebird days, crowd-free skiing, friendly locals, and plenty of good old fashioned peace and quiet. Some businesses hibernate, but enough stay open year-round to keep you comfy-cozy.
Here's how to make the most of Lake City this winter, from snow-capped peaks to small town charm:
Experience the serenity of winter in Lake City
Escape the hustle and bustle and get away from it all and experience the unparalleled serenity, beauty, and quiet of a winter vacation in Lake City. Our winter night skies glow with starlight only remote places can boast.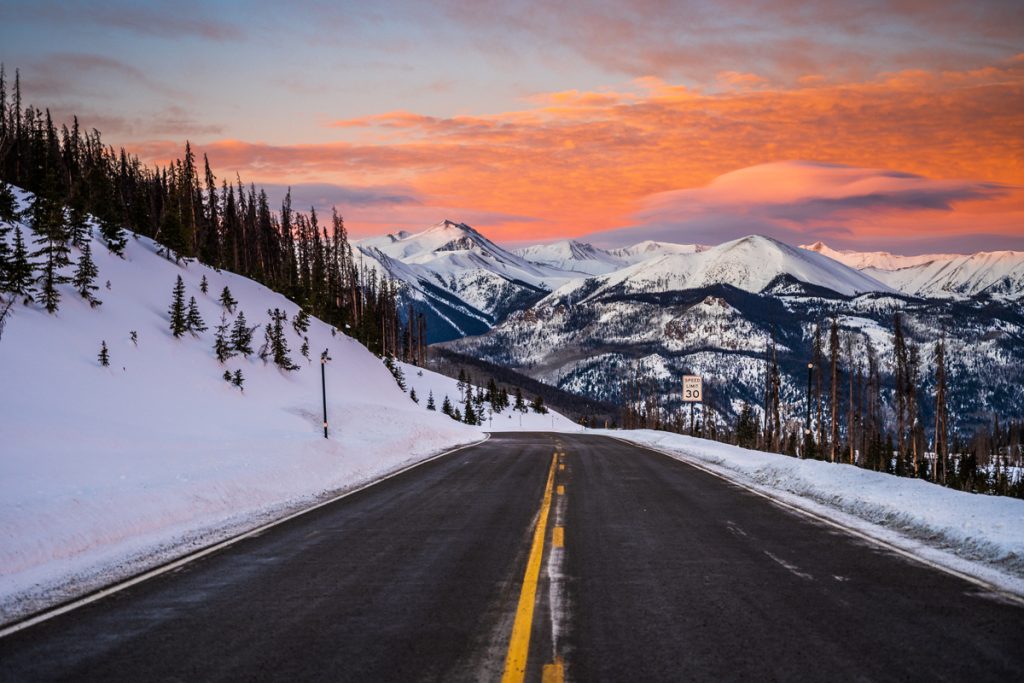 Hit the slopes at the Lake City Ski Hill
With 14 skiable acres, six trails, and one terrain park, the Lake City Ski Hill is perfect for learning to ski or practice your turns without breaking the bank. It's just $25 for all-day skiing, gear included, and just $15 for kids!
Ski to a high alpine yurt
The cozy Jon Wilson Memorial Yurt with panoramic views is just 1¼ miles from the road, making it a great winter destination for beginner snowshoers, skiers, and families. Strong backcountry skiers or snowshoers can create an epic yurt-to-yurt trip on the Hinsdale Haute Route, the highest hut system in Colorado.
Snowshoe to a frozen waterfall
Right off the Silver Thread Scenic Byway, North Clear Creek Falls plunges more than 100 feet into the canyon below, frozen solid all season. It's a short, scenic snowshoe to the viewpoint for a look at one of Colorado's true winter wonders. (And you might spot an ice climber, too!)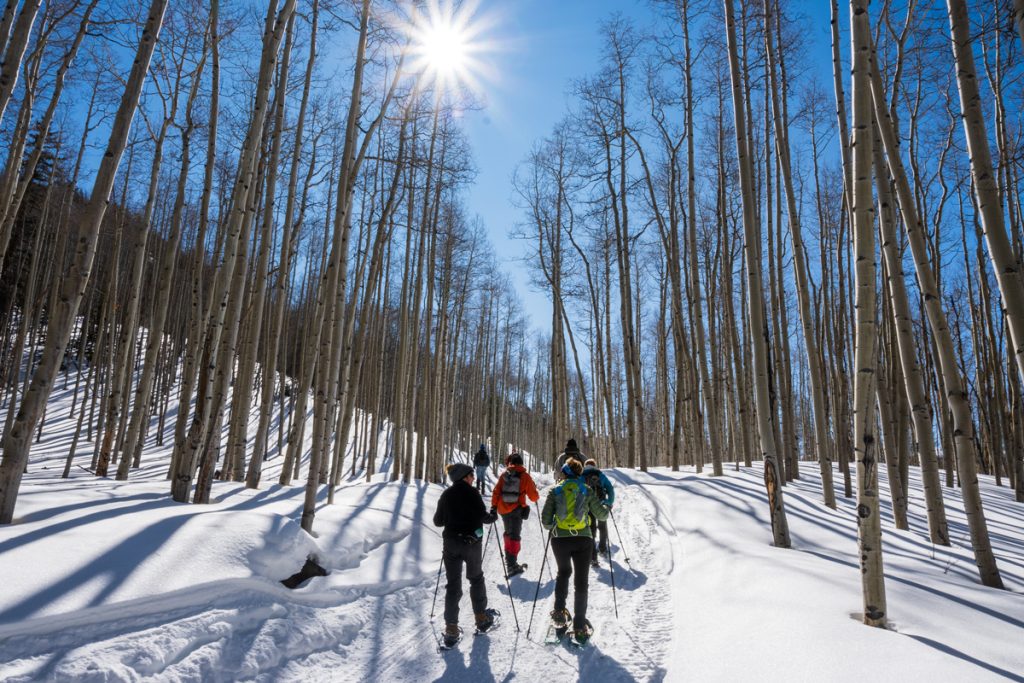 Climb a frozen ice wall (or watch the pros do it)
Ice, ice, baby: the Lake City Ice Park boasts 50+ routes on big walls for all climbing abilities, with cozy fire pits and warming huts for spectators. Join in the Lake City Ice Climbing Festival in February for the chance to see the pros in action.
Take the kids ice skating
Kids and kids-at-heart will love skating on the outdoor rink at Lake City Town Hall, near the intersection of Bluff and 3rd streets.
Scope out some winter wildlife
Animals ease closer to town in the quiet winter months, boosting your chances of a once-in-a-lifetime sighting. Grab your binoculars and venture out on one of our groomed trails for stunning viewing and photography opportunities.
Go ice fishing on Lake San Cristobal
Drop a line from a heated ice fishing hut on Lake San Cristobal, either on your own or on a professionally guided trip with Alpine Outfitters. The trout keep biting all winter, whether you brave the remote backcountry or go ice fishing close to town. 
Hop on a snowmobile tour
Zoom into a powdery winter paradise on an expert-guided snowmobile tour from Lake City Auto, covering some of Lake City's 100+ miles of groomed snowmobile trails. Trail grooming is snow-dependent.
Snowshoe or Cross Country Ski on Lake San Cristobal
Winter turns Lake San Cristobal into a field of frozen winter fun. The lake provides an easy outing for those looking for a flat spot (which is not easy to find in Hinsdale County) to recreate. This location can be easily accessed from the Lake San Cristobal Boat Launch. Don't miss this epic location for your snowshoe or cross-country ski.
Watch the snow fall from a cozy cabin
After a chilly alpine adventure on skis, snowshoes, or snowmobile, curl up on the couch or by the fire at one of Lake City's adorable rental cabins.
Visit the local restaurants
Stop by our local restaurants for or a hot-and-fresh coffee, hot cocoa, ice cream, or indulge in delicious eats. With locally brewed favorites like the Slumgullion Stout and gourmet pub grub, the Lake City Brewing Company is the place to be on a cold winter's night — especially if you're around for Tuesday Night Trivia.
Catch a movie on the silver screen at The Mountaineer Theater
Escape the cold at the Mountaineer Theater which brings big city movies to the small town screen. Grab your favorite candy and a big bag of buttery popcorn and enjoy the show! 
Move, eat, and drink at the annual Brew-Ski
Work up an appetite at this mile-long course stocked with 6 stations of tasty baked goods and beers from the Lake City Brewing Company. Ski, snowshoe, dogsled, or dance your way down the course…whatever keeps you warm!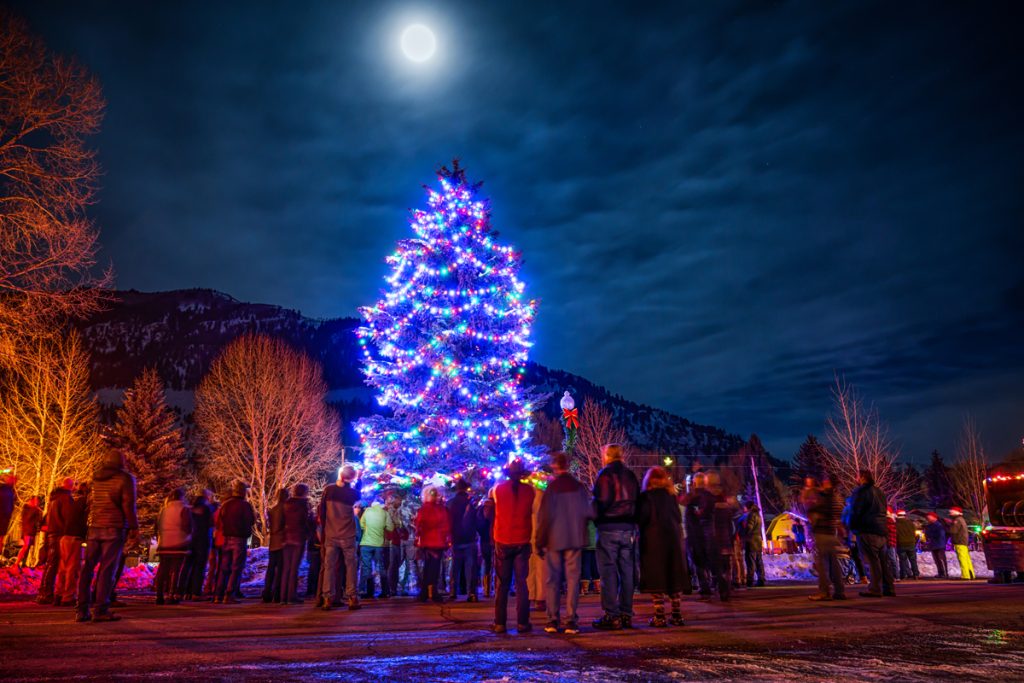 Join the colorful Christmas festivities
Lake City becomes Santa's workshop at our annual Christmas in Lake City celebration the first Saturday of December. Enjoy peaceful shopping, reindeer games in the park, a tree lighting ceremony, holiday light parade, and more. 
Shop for a special San Juan souvenir
Several local boutiques open their doors in winter for an unhurried, small town shopping experience, especially on weekends. Do your holiday shopping on Main Street for unique Colorado gifts, or pick up something special for yourself!
Get set and go! on the Cannibal Snowshoe Race
Hungry for fun? The annual Cannibal Snowshoe Race —named for Lake City's most infamous resident, purported cannibal Alfred Packer— is fun for a good cause, benefiting the Lake City Continental Divide Snowmobile Club. Work up a sweat racing on Lake San Cristobal, then grab a brew with your competition in town. 
Lake City is a winter wonderland with fun activities for the adventurous traveler but without the flurry of crowded tourist towns. If you're looking to escape the lines this winter, check our event calendar for the latest events or stop by anytime. We'd love to welcome you to this quiet, cozy corner of Colorado.
This blog was made possible through a grant from Visit Colorado.