Lake San Cristobal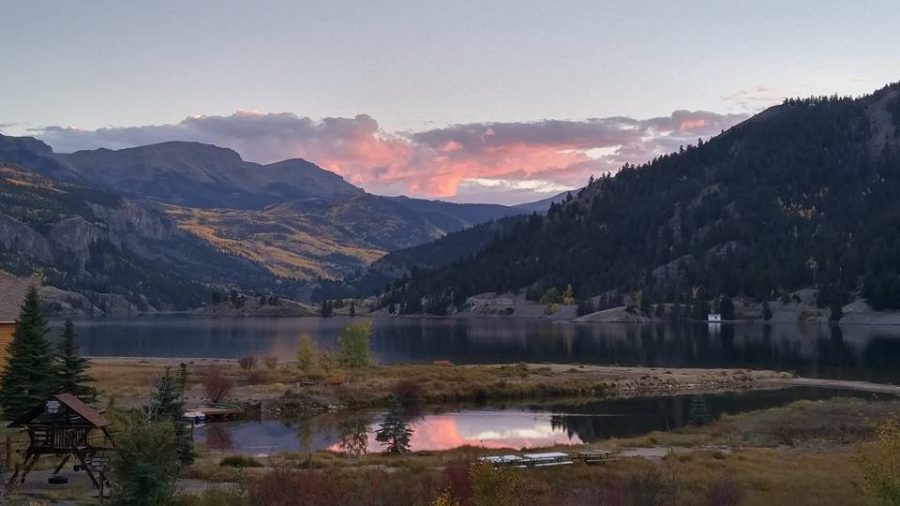 ---
Lake San Cristobal
Lake City's namesake was formed hundreds of years ago by a rare natural earthflow called the Slumgullion Slide, which blocked the Lake Fork of the Gunnison River.  Lake San Cristobal is the second-largest natural lake in Colorado.
Fishing
A variety of trout live in the cold waters of this lake.  You can fish from any of the public access areas of the shore, including those near the lake outlet, and those located on the east side of the lake along County Road 33 at Wupperman Campground.  Or, you can float your boat and fish from the surface.
State catch and possession limits apply and licenses are required.  Fishing licenses are available at the lake and in town from several equipment outfitters. Learn more.
Boating
Boats, including canoes, kayaks, and fishing boats, are available for rent from local businesses.  A public boat ramp, dock and parking area are located part way along the west side of the lake.  Eight slips are available: two for day use and six which can be reserved, for a fee, by calling Hinsdale County at 970-944-2225.
Camping at Wupperman Campground
Located on the east side of Lake San Cristobal, this county-owned public campground features 31 sites with excellent views of the lake.  Various site lengths will accommodate RVs and/or tents.  Water, trash removal, vault toilets, picnic tables, grills, and fire grates, dump station.  No electricity.  Cost is $15 per night.  The elevation is 9000 feet.
From Lake City, travel south on highway 149 for 2 miles and then take a right onto County Road 30.  Travel 1.5 miles to the junction of County Road 33, turn left.  Travel 2 miles (road becomes gravel).  Wupperman Campground is located on the right-hand side.  During the summer months, campground hosts can assist you with your questions.  For more information, contact Hinsdale County at 970-944-2225.
Wildlife Viewing at Lake San Cristobal
Water sources typically attract a big variety of wildlife, including migratory birds, beavers, and other small mammals, and larger animals such as elk and moose.  At Lake San Cristobal, you are likely to see many animals, especially during the warmer seasons.
Canada geese can usually be seen at the lake outlet near the junction of County Roads 30 and 33.  Migratory birds, including geese and a variety of ducks, can be seen at the marshy, south end of the lake, along with smaller birds, beavers, and more rarely, elk and moose.
Red Mountain Gulch Day Use Area is a good place to park, as is the area by the bridge at the lake inlet a little further up the road. Learn more.
Red Mountain Gulch Day Use Area
Located at the south end of Lake San Cristobal on County Road 30, the Red Mountain Gulch Day Use Area is a great location for your small picnic or large gathering.
Facilities include several picnic spots, each with a picnic table and grill, plus a pavilion shelter with a large outdoor cooking grill.  Restrooms are available seasonally.  This picturesque area is close to the marshy end of the lake where many birds and other wildlife may be seen.  For more information about this area, call Hinsdale County at 970-944-2225.