Fall in Lake City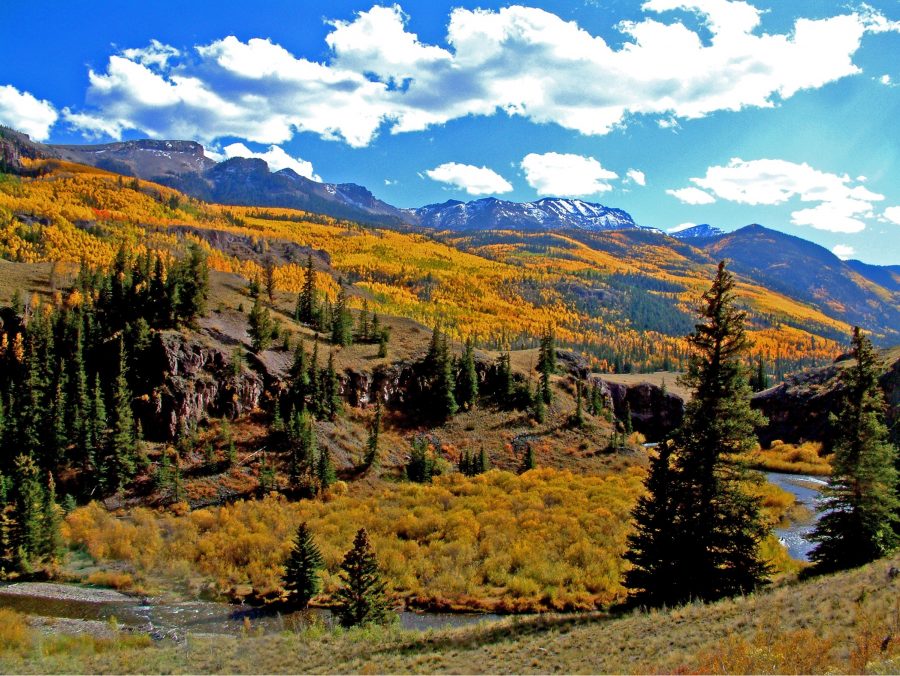 ---
Autumn in Lake City
Autumn is Perhaps the Most Beautiful Time to Visit Lake City. In One Word… GOLDEN.
As if knowing winter is near with all its icy air and whiteness, this remote part of the San Juans flaunts its incomparable beauty every autumn when gold, red, orange, and yellow "brilliance" lights up the scenery.
With a decrease in "vacation" traffic, the pace of life slows, wildlife eases closer to town, and area festivals and recreational activities complement the seasonal change with celebrations of art and music and events for hunters, fishermen, and other sportsmen.

Although autumn is a relatively short season in Lake City, it's one of the most beautiful times to be in the area. The incomparable fall foliage typically is in full swing by mid-September. The changing aspen, willows, and cottonwoods set fire to the mountainsides with the slightest breeze setting things aflutter, creating a striking scene.
This time of year is also one of the best for fishing, a favorite of locals. Kokanee salmon began to slip upstream from Blue Mesa into the Lake Fork, so you may have an opportunity to hook one. Brown trout are also spawning during this time of year.
Aspen Tree Folklore
Several Native American legends attempt to shed light on the symphony of colors that lights up Colorado's "Shining Mountains" each year. One legend attributes the deep red hues to the blood of the Great Bear dripping onto the leaves after he was slain by celestial hunters. The vibrant yellow and orange colors were the result of fat splattering out of the pot as the meat of the bear was cooked. Others tell the story of the Great Spirit offering magical powers to any tree that could remain awake for seven days and seven nights. Those that succeeded were allowed to be continually green while those that failed had to lose their leaves and sleep during the winter. We know now that the changing leaves are a result of chemical reactions and the changing season. But one may prefer the stories that awaken the imagination, making this time of spectacular beauty much more magical.
Tips for visiting Lake City in the autumn
August through November
As the tourism season winds down, lodging opens up with special rates offered. For more information, visit our lodging directory.
Recreational opportunities include scenic color tours over two-wheel and four-wheel drive roads, via in-town strolls, and during backcountry treks.
Sporting activities include fishing–especially for Kokanee salmon and native brown trout–and hunting in game management units 65, 66, 67, 76, 77 and 751.
Photo opportunities abound as autumn is truly where Colorful Colorado gets its name.
Autumn scenic drives include:

Two-wheel drive vehicles

Silver Thread Scenic Byway
Lake City to Sherman
County Road 20 to Capitol City
Cebolla Creek & Los Pinos Pass
Rio Grande Reservoir

Four-wheel drive vehicles

Nellie Creek Road
North Henson Road
Portions of Alpine Loop Scenic Byway
Round Top Road

Autumn scenic hikes include:

Crystal Peak & Thompson Lake Trail
Waterdog Trail
Cataract Gulch
Alpine Gulch
Ski Hill to Lake Trail
Events
September
Labor Day in the Park
Uncorked Wine & Music Festival
Oktoberfest
Find detailed event information in our event calendar.