Tips for Stargazing in Lake City Colorado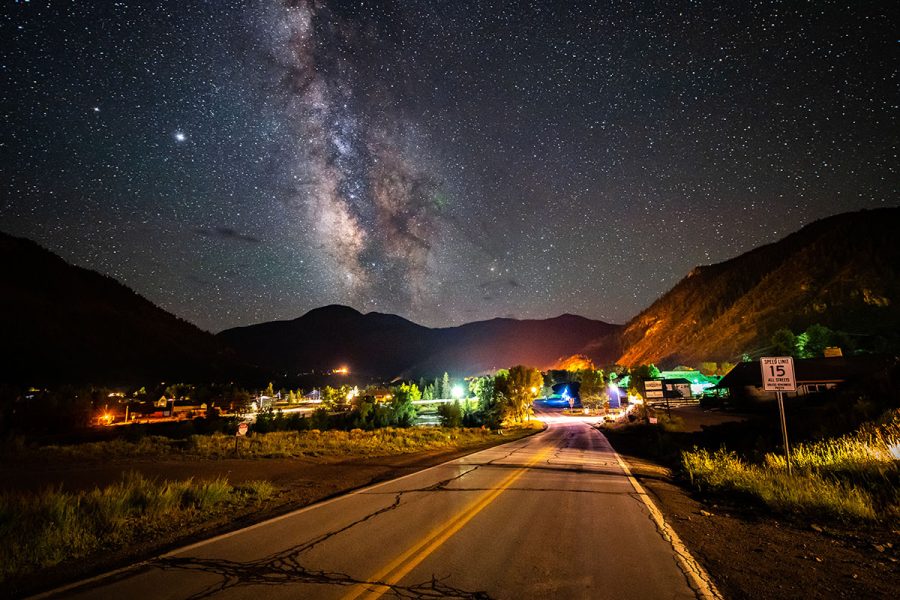 ---
Tips for Stargazing Near Lake City Colorado, home to an International Dark Sky Park
There's no better place to stargaze than near Lake City, Colorado. The clear air, remote location, and high elevation make for some of the brightest stars on the planet.

Lake City is surrounded by the San Juan Mountains on all sides, blocking out the light pollution from larger towns (the nearest of which is still 50+ miles away.) On a cloudless night, look up almost anywhere in Hinsdale County for a view of the Milky Way you won't soon forget. And if you're lucky, you might even see a shooting star or two!
See the Milky Way at Lake City's International Dark Sky Park

If you're part of the 80% of the United States population that can no longer see the Milky Way from their home, Lake City is the perfect destination to see it for yourself. The skies here are so dark that The Lake Fork Conservancy's 58-acre Slumgullion Earth and Sky Center was recently named an International Dark Sky Park by the International Dark Sky Association. There are only about 100 spots worldwide to earn this designation, recognizing "land possessing an exceptional or distinguished quality of starry nights and a nocturnal environment that is specifically protected for its scientific, natural, educational, cultural heritage, and/or public enjoyment."

Stop by the Slumgullion Earth and Sky Center for more information and Dark Sky viewing parties every Wednesday night in summer. There are also plans to create an observation site on the top of Slumgullion Pass, a place so dark that during the new moon, even a camera taking 30-second-long exposures won't show any light pollution. 
Why summer is the best time of year to stargaze in Lake City 
While you can see stunning star-filled skies any time of year, summer is the best time of year to enjoy the Milky Way's front-and-center placement in the sky, as well as comfortable nighttime temperatures. Summer is when the galactic center of the Milky Way, with its big clusters of bright stars, arches across the southern sky every night and is visible all night. You can also time your visit for the Perseids meteor shower, one of the most active meteor showers on the celestial calendar, which happens every year in the middle of August.  
The galactic center of the Milky Way rises later in spring and sets earlier in fall, which makes nighttime viewing more difficult than in the summer months. In winter, the galactic center of the Milky Way can't be seen at all, but the clear, cold air makes the stars even more vivid. Brave the cold to see gorgeous winter constellations like Orion and its nebula, or reliable winter meteor showers like the Leonid meteor shower in November and the Geminid meteor shower in December. 
The biggest factor to consider when planning a stargazing trip, however, is the phase of the moon. A full moon means you'll only see a small fraction of the stars in the sky. A new moon is the best time of month to see stars, when there's no interfering moonlight at all. The darker the skies, the more stars you'll see.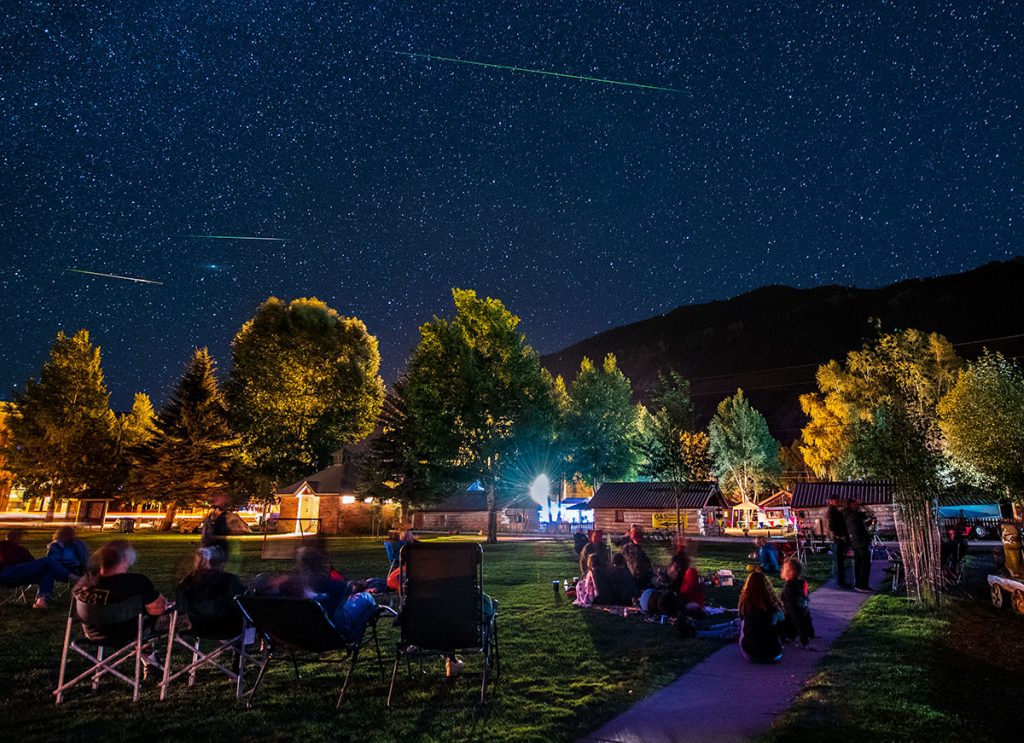 The best stargazing and astrophotography spots near Lake City 
The best place to look for stars near Lake City is…"up!" With around a dozen streetlights in town, each producing minimal light pollution, there's no bad place to view the night sky — but the farther you can get from those lights, the even brighter the stars will appear. 
One of astrophotographers' favorite spots to view the stars is Windy Point, a designated lookout with parking and restrooms on Slumgullion Pass. From there you can view the jagged peaks of Lake City's 14ers, including the iconic Uncompahgre Peak, with a glittering backdrop of stars. 
Lake San Cristobal's Peninsula Park is another fabulous spot to view the night sky, with a chance to see the starlight reflected in the water on a calm night. Better yet, pitch a tent in the Silver Thread or Bristol Head campgrounds for all-night viewing with no obstructions.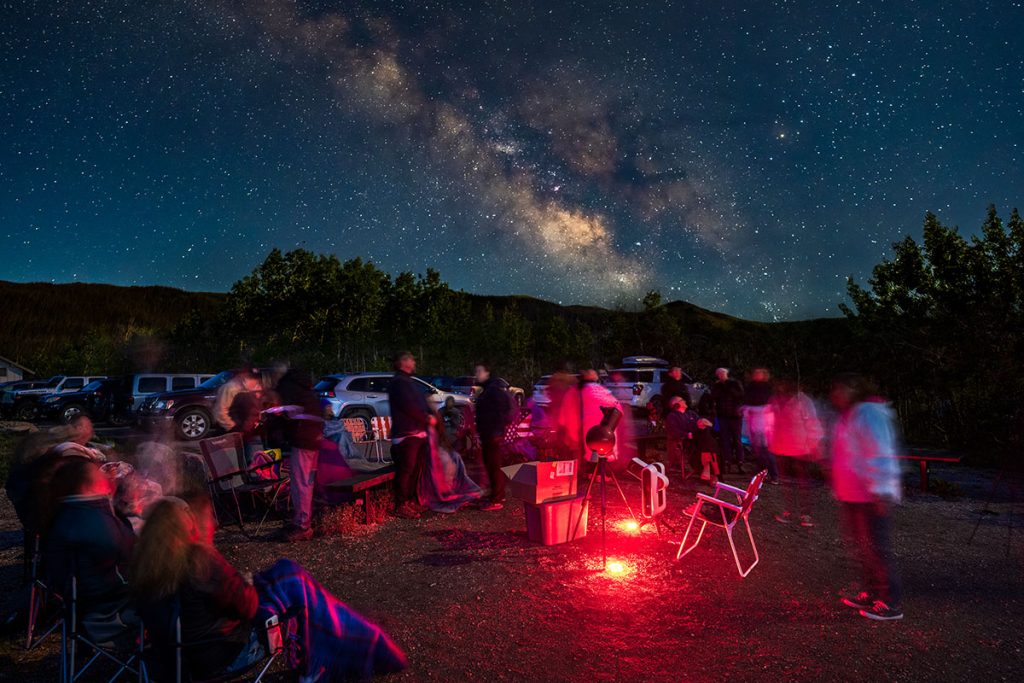 What to bring on a stargazing excursion 
The best part about stargazing is you don't need any special gear to enjoy it: just a blanket, a warm jacket, and a comfy chair. If you want, bring some binoculars to start picking out planets and distant galaxies, or a telescope for an up-close view. Don't have your own telescope? The Lake City Public Library at 206 Silver Street will check one out to you.
To help understand which celestial bodies you're looking out, you can download a popular stargazing smartphone app like StarWalk or SkyView. Looking at your phone can hurt your night vision, though, so be sure to soak in the stars first and learn later. A flashlight or headlamp with a red light mode can also help you preserve your night vision. 
Tips for stargazing and astrophotography
For the best possible stargazing experience, first find a dark spot far away from city lights. (If you're in Lake City, you won't have to go far!) Then, give your eyes time to adjust to the darkness. It can take up to 30 minutes for your eyes to fully adjust. Some of the best views of the night sky come after you've been staring at it for a while. The more you look, the better your chance of catching a shooting star!

Protect your night vision by avoiding electronics and any other artificial light: even just checking your phone for a few seconds or seeing the lights of a passing car will make it harder to savor the stars. If you need to see your surroundings, use a flashlight or headlight with a red light function.
To capture the stars on your camera, bring a DSLR with a wide-angle lens and a sturdy tripod. Set your camera at its fastest aperture (ideally f/2.8 or faster,) a high ISO of 3200 or more, and a shutter speed of at least 15 seconds. The longer your exposure, the more starlight your camera will capture. Newer smartphones can take impressive celestial shots, too, using the long exposure feature. The latest iPhone models, for example, can take photos with up to 30-second exposure if held completely still on a tripod.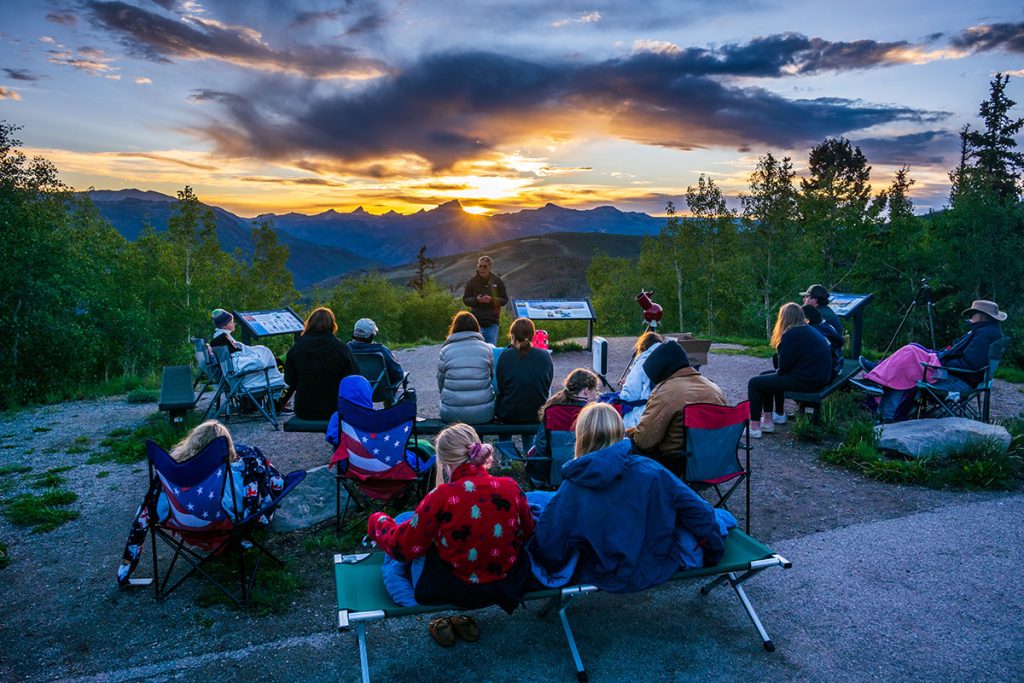 Attend a Star Party this summer  
For a guided, family-friendly stargazing experience, Lake City Skies hosts regular Star Parties at Windy Point, a scenic overlook on Highway 128, each week in the summer months. All you need to do is show up with a lawn chair, cozy blanket, and a good attitude! (Warm beverages optional.) 
Star Parties are always free and are a perfect evening activity for families. Kids and kids-at-heart alike will love peeking into a volunteer's telescope to see the Milky Way, study the rings of Saturn up close, learn to identify common constellations, and understand what's going on in our little corner of the universe. 
Protect the Night Skies
When you're visiting Lake City, there's one simple thing you can do to preserve the dark night skies. When you aren't actively using the exterior lighting at your hotel or rental property, turn off the lights to turn on the night! 
This blog was made possible through a grant from Visit Colorado.