Wilderness Areas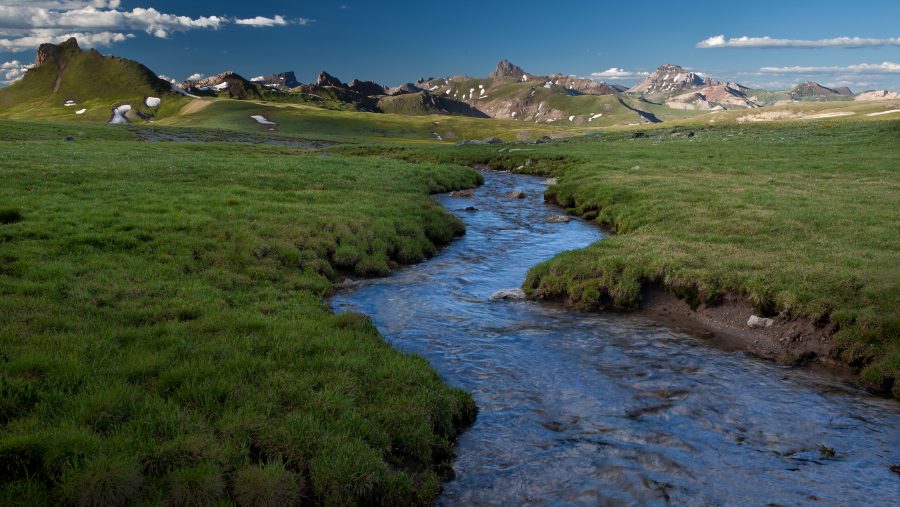 ---
Wilderness Areas
One of the main attributes of Hinsdale County is that it is 96 percent public land, which includes four wilderness areas and two wilderness study areas, allowing for plentiful outdoor recreation opportunities in the area. Hinsdale County offers hundreds of miles of hiking trails, five fourteeners, over 20 thirteeners, the Alpine Loop National Backcountry Byway, six different limited license hunting units, and plenty of public waters for anglers.
Maps are available at the Lake City Visitor's Center and at local retailers.
Uncompahgre Wilderness
Spanning 102,721 acres, the Uncompahgre Wilderness is home to two of Lake City's fourteeners, Wetterhorn Peak and, its namesake, Uncompahgre Peak. The trailheads of these two peaks can be accessed from North Henson Creek Road and Nellie Creek Road, both of which require four-wheel drive. Other access points to the 75 miles of hiking trails in the Uncompahgre Wilderness can be found near Lake City at Independence, Big Blue, and the Little Elk Trail.
La Garita Wilderness
This lesser traveled wilderness area of 128,858 acres was one of the original five wilderness areas in the state. San Luis Peak, standing at 14,014 feet, and Wheeler Geologic Area, a beautiful site of towering rock spires formed by ancient volcanic eruptions, are both located in this remote wilderness. The La Garita Wilderness can be accessed at several points along the Cebolla Creek Loop, as well as access points near Spring Creek Pass and from the town of Creede. Most of the trails in this wilderness area are suitable for horses.
Weminuche Wilderness
At 488,210 acres, the Weminuche Wilderness is Colorado's largest wilderness area. It contains sections of both the Colorado Trail and the Continental Divide Trail, making it highly traveled. One access point is from the Rio Grande Reservoir south of Lake City.
Powderhorn Wilderness
To the north of Lake City are the 61,250 acres that comprise the Powderhorn Wilderness. Cannibal Plateau and Calf Creek Plateau come together in this wilderness to create what is considered the largest continuous tundra in the lower 48 states. From the plateaus, striking, 360-degree panoramic views of the surrounding San Juan Mountains are seen. Hiking trails into the Powderhorn Wilderness can be found at Devil's Creek, Powderhorn Lakes, Ten Mile Springs, Powderhorn Park, and the Deer Lakes Campground area.
Redcloud Peak Wilderness Study Area and Handies Peak Wilderness Study Area
These two wilderness study areas of 54,321 acres host three of Lake City's fourteeners: Handies, Redcloud and Sunshine Peaks. Contained in these wilderness study areas is spectacular evidence of the volcanic events that spawned the San Juans and remnants of Hinsdale County's rich mining history. Numerous hiking trails access the Wilderness Study Areas from the Alpine Loop, such as Alpine Gulch, Williams Creek, Cataract Gulch, Cuba Gulch, Grizzly Gulch, Silver Creek, Cooper Creek, and American Basin Trails.