The D&RG Lake City Branch Railroad and a Galloping Goose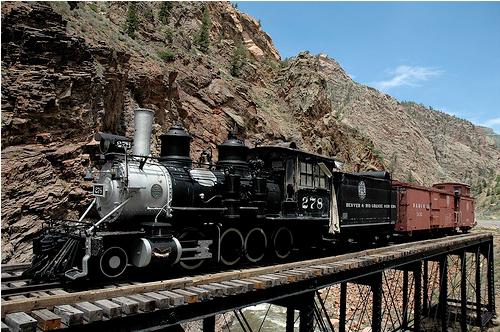 ---
The D&RG Lake City Branch Railroad and a Galloping Goose
The Denver and Rio Grande Railroad narrow gage engine ran between Sapinero, Colorado and Lake City, Colorado. The High Bride was 800 feet long and 113 feet high.
On Monday evening June 24, 1889, track was laid into Lake City completing the town's fourteen-year quest for a railroad. The final cost of the construction of the branch was $770,996.80.
At 10:00 A.M. on Thursday, August 15, 1889 the first regularly scheduled passenger train with engineer P.J. Ready at the throttle pulled into Lake City Station, Second District, Third Division. The paper reported, "It is here! We breathe freer."
The distance from Sapinero to Lake City was 36 miles, with 10 bridges. The train averaged 12 miles per hour. Local residents were fond of saying that you didn't want the Rio Grande engine to run over you because "it was on you so long".
From 1889 -1921 for the first 32 years of the Lake City Branch Railroad, Pete Ready (born 1858 near Lexington, Missouri), engineered the train. He was credited with saving many people with his expertise in piloting the train.
Service on the D&RG Railroad between Sapinero and Lake City ended May 25, 1933, after 44 years of service. Mike Burke, miner-turned-railroader replaced the Denver & Rio Grande Western steam-operated locomotive with a "railauto" powered by gasoline internal combustion engine. Burke had his family car, 1 1928 piece-Arrow, remodeled into a railroad vehicle by the McFarland-Eggers machine shop in Denver. The term Galloping Goose was borrowed from the Rio Grande Southern Railroad. The car resembled to some observers a waddling goose getting ready to flight because the flat-face wheels on the auto-turned railroad engine caused it to weave down the track with the flange of the wheel striking the rail.
It has been almost seventy years since any train has run between Lake City and Sapinero. In the Lake Fork Canyon, feared by engineers many years ago, the railroad grade is many feet under water, inundated by the Blue Mesa Reservoir, which some people call progress.
Yet, through the mists of time, on a clam and cool fall day, when the aspens are ablaze with color, one can fell the presence of snorting little narrow gauge engines and the "Galloping Goose" as they chugged and clattered through the high country of the Colorado Rockies. Their days are gone but not forgotten.
From: Colorado Railroad Annual #14