Hunting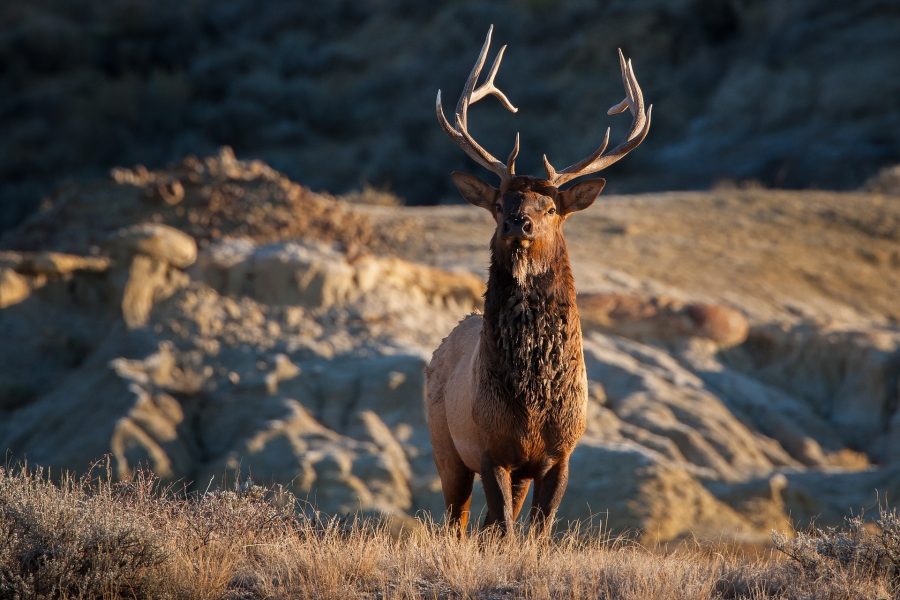 ---
Hunting
Hunting in the San Juans started during the 19th century when the mountain men who weren't prospecting for precious metals learned of another commodity that these mountains had to offer: fur pelts. Beaver pelts at this time were fashionable and could fetch a high price in cities. Once mining became the trade of the county in the 1880s, miners hunted big game animals such as deer to feed themselves and their families.
Today, elk and deer hunting is a way to enjoy the outdoors and pleasant fall weather. Hunting in Hinsdale County is limited licensing only, which requires hunters to be drawn for tags. Six game management units occur partially in Hinsdale County: 65, 66, 67, 76, 77, and 751. Units 66, 67, and 76 are draw only with some over the counter licenses sold in units 65, 77 and 751.
Area hunters are likely to have high harvest rates, quality animals, and a great overall experience. The benefits of hunting in a county comprised of 96 percent public land offer numerous access points to the backcountry, plenty of room to hunt and a lower chance of overcrowding of hunters. The application deadline for tags for big game hunting is usually the first week of April.
Steps to Planning a Successful Colorado Hunt.
Familiarize yourself with big game license options.
Decide which big game species you intend to hunt: Elk, deer, bear, pronghorn and/or moose.
Decide upon when to hunt and the method of take to use.
Select your hunt location (GMU) and check public land accessibility. (For some GMU suggestions, read Places to Start. This was written for the 2009 season but should remain valid for the 2011 season.)
Research the preference points needed to apply for Limited Licenses.
Examine past success rates for elk and other big game species.
Track herd movements on Natural Diversity Information Source (NDIS) maps.
Consider over-the-counter (OTC) licenses.
Be sure to read Planning For A Successful Elk Hunt from Elk Hunting University!
Learn more from Colorado Parks and Wildlife. 
Season Advantages and Methods of Take
Archery
The archery season typically runs from the last weekend in August each year to the last weekend in September.
Weather tends to be milder.
Elk rut during this month-long season.
Either-sex deer and elk draw licenses are available.
Over-the-counter for both either-sex elk and pronghorn licenses are available.
See GMU maps for over-the-counter cow elk archery licenses, over-the-counter either-sex elk archery licenses, and over-the-counter either-sex pronghorn archery licenses.
Muzzleloader (check brochure for firearm-type restrictions)
Typically one week each year in the middle of September.
All licenses are limited by draw.
Great time to be in Colorado's back country!
Typically overlaps with the rut.
Rifle (Four Seasons)
First season is restricted to elk limited licenses. Check available leftover licenses. (This information available about early August, 2011.)

Typically takes place early to mid-October.
Generally fewer hunters in the field.
Elk hunters are not sharing the backcountry with deer hunters.

The second season, typically in mid- to late-October, has elk and deer draws and over-the-counter elk licenses available.
The third season, typically scheduled for early November, has elk and deer draws and over-the-counter elk licenses available.

Cold and snow usually begins to move animals to lower elevations.

The fourth season is limited to elk and deer draw licenses and takes place in mid-November.

Typically colder weather at this time makes animals more accessible.
Which Area to Hunt—Game Management Units (GMUs)
CPW biologists have divided Colorado into Data Analysis Units, or DAUs, for the purpose of managing wildlife populations. Each DAU represents an area that a herd will utilize throughout the year. DAU's are consist of one or more Game Management Units.
GMUs are used to manage hunter distribution by setting the number of licenses, and type, that will be made available for sale. Each GMU has a set number of licenses available per season. When applying for a limited license, a GMU must be selected, along with the method of take to be used, and season choice.
Most western Colorado GMU's also have unlimited over-the-counter (OTC) bull elk licenses available for the 2nd and 3rd rifle seasons. A specific GMU selection is not required when an OTC license is purchased.
Approximately two-thirds of the GMUs offer either-sex and cow elk OTC archery licenses, and either-sex pronghorn OTC archery licenses.
Preference points advantage—Limited Licenses
Preference points affect your ability to draw a limited license. Ninety-five to ninety-eight percent of GMUs require no preference points—or just a single preference point—in order to draw a limited license in those units. Take a look at the number of points required to hunt in the area you selected.
Preference points are earned when you apply for a limited license (by April 5, 2011) but are unsuccessful in drawing a license for your first choice. You can also apply just for the purpose of earning a preference point, but all the hunter education requirements must be successfully completed before applying. (Preference points earned in the current year cannot be applied until the following year.) You can apply for a preference point and still buy an OTC license the same year.
Last Year's Success Rates—Big Game Harvest Statistics and Herd Status
Review statistics from previous year's seasons indicating hunter success in specific GMUs using a specific method of take.
Colorado Outdoors' Herd Status Issue (January/February) has lists of the mature bull to mature cow and mature buck to mature doe ratios.
Natural Diversity Information Source (NDIS) Maps by GMU
NDIS is a database of information—biological, GMU boundaries, public lands, campgrounds, topography and more—that can be layered onto interactive maps. These maps can depict game habitat and historic migration routes. Use NDIS to narrow your location choices to increase your chances of a successful hunt!