Continental Divide Trail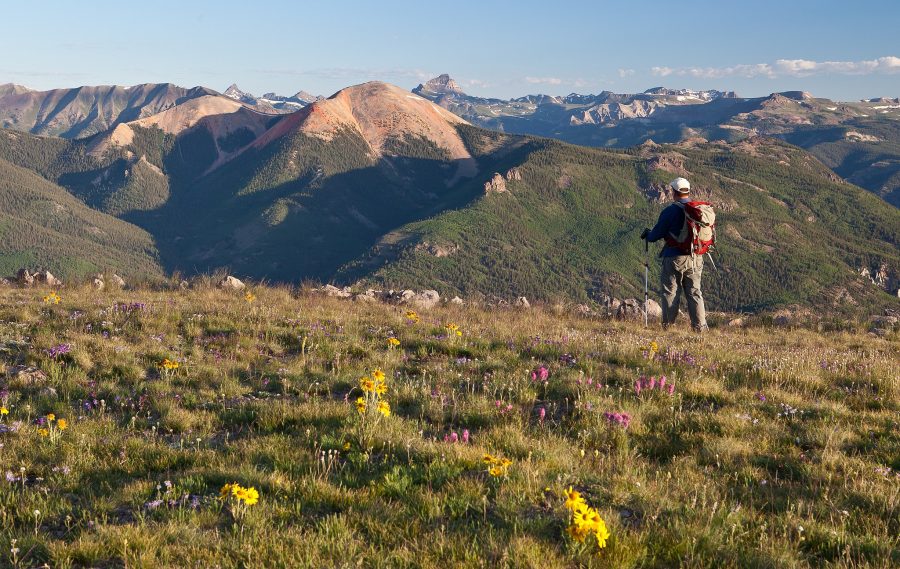 ---
Lake City: A Continental Divide Trail Coalition Gateway Community
---
In 2020, Lake City was designated as an official Gateway Community to the 3,100-mile Continental Divide Trail. CDT Gateway Communities are trailside towns recognized by CDTC as welcoming destinations for trail visitors, dedicated to the protection and promotion of the trail.
What is the Continental Divide Trail?
"More than a line on a map or a thin stripe of tread, the Continental Divide National Scenic Trail (CDT) is a living connector of communities along the spine of North America, a thriving landscape of unique and precious ecosystems, and a meeting ground where people of all walks of life may unite to live, work, play, worship, and learn." – Continental Divide Trail Coalition
The Continental Divide Trail is a long-distance hiking trail that spans over 3,100 miles across the United States. It follows the Continental Divide of the Americas, traversing through five states and showcasing stunning landscapes and diverse ecosystems.The trail begins at the southern terminus in New Mexico and extends north to the Canadian border in Montana. With its rugged beauty and unparalleled adventure, the Continental Divide Trail is a dream come true for avid hikers and nature enthusiasts. On average, a thru hiker takes six months to complete the CDT, which equates to around 17 miles per day. It is common in Gateway Communities to offer assistance to thru-hikers, commonly referred to as "trail magic," by providing transportation to and from trailheads or other forms of support.
---
Welcome Hikers!
If you happen to be trekking through Lake City, we are excited to extend a warm welcome and introduce you to our lovely community. To make the most of your break from the trail, we have some helpful resources available for you to explore, including information on our Hiker Center, trail shuttle information, local business information, and more.
---
Hike a Portion of the CDT
Not a thru-hiker but want to experience the beauty that the CDT has to offer? Consider hiking a portion of the trail just outside of Lake City and in Hinsdale County. Whether you choose to hike for a day, a week, or even longer, you'll be able to create unforgettable memories and witness the incredible beauty that the Continental Divide Trail has to offer.
---
Getting to the CDT
Spring Creek Pass East
The CDT sits about 18 miles south of Lake City and is most easily accessed at Spring Creek Pass. Heading east at this trailhead will take users to Snow Mesa, the largest tundra in the continental United States. The edge of Snow Mesa is just under 2 miles, but those looking for a longer hike can easily travel farther on this section. There is an elevation change, descending about 1,500′, that trail users should be aware of should they choose a longer hike.
Spring Creek Pass West
Heading west from Spring Creek Pass will take trail users to Jerosa Mesa. The trail descends roughly 1,000′ along this section of trail, and the best views start at about 5 miles in. Roughly 9 miles into this section of the trail, users will reach the Colorado Trail Yurt site.
---